AMD has pushed out an updated Never Settle games bundling promotion. This time, with the Never Settle Forever promotion, it's a bit different and overall it looks like AMD will be giving away a few less top tier games with its graphics cards in the near future. However, with the choice from a range of games available, you will be able to choose the games that appeal to you more.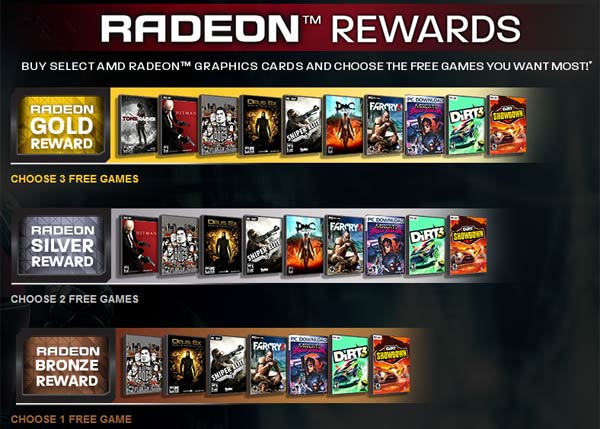 The new scheme is quite a bit more complicated to explain with the permutations of cards and games in the offer. Have a look at the 'Radeon Rewards' chart above for a quick overview of what is available and how many of these games you can pick, corresponding to your bronze, silver and gold reward.
AMD Radeon HD 7000 series graphics cards are grouped into bronze silver and gold earning categories as follows; The AMD Radeon HD 7770 and 7790 cards will net you a bronze, you will be able to choose one game from the bronze list above. Silver reward earning cards include any of the Radeon HD 7800 series and buyers can choose any two games titles from the silver range above. Finally gold rewards, with a choice of three games, from the above gold selection, are available to purchasers of AMD Radeon 7950 and 7970 graphics cards. You can see this info graphically below.

Venture Beat talked to Matt Skynner at AMD who said that the new Never Settle Forever promotion would allow gamers more choice "...as it pioneers the concept of a completely customizable game bundle. For the very first time, gamers can assemble their own perfect bundle from a vast catalog of games optimized for AMD technology." Looking at the games on offer, it would be nice to think that there would be some updated choices coming to the promotion and AMD's Robert Hallock told TechReport that more new games, selling at full retail prices, would join these gold, silver and bronze selections "at multiple points" in the future. Remember Battlefield 4 is supposed to be AMD bundled in the not too distant future.
You can still get a massive eight games bundle with the Radeon HD 7990
Buyers of the Radeon HD 7990 will not be part of the new reward program detailed above and will continue to get the maximum eight games from the previous Never Settle: Ultimate Reload bundle. This graphics card has only last week been subject of a very large price cut and retaining the games bundle of BioShock Infinite, Tomb Raider, Crysis 3, Hitman Absolution, Sleeping Dogs, Far Cry 3 Blood Dragon, Far Cry 3 and Deus X Human Revolution might help it shift off the shelves.