The first downloadable content (DLC) add-on for the hit game BioShock Infinite is now out for PC gamers. 'Clash in the Clouds' is available for $5 (£3.69) now on Steam. This DLC is, at its core, an arena battle mode for the game where you will get access to four new maps for battling through several waves of enemies to earn 'money'. Xbox 360 and PS3 DLC packs should also be available now in most regions.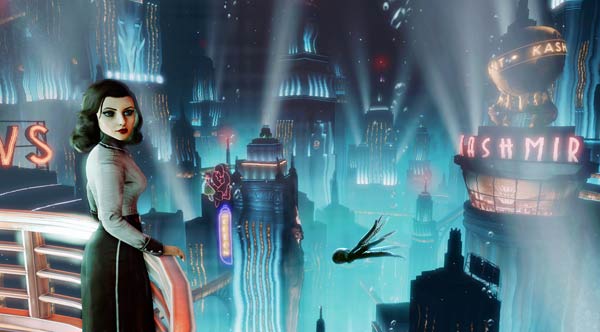 BioShock Infinite: Clash in the Clouds
The four new maps are called The Raven's Dome, The Ops Zeal, Duke, Dimwit Theatre and Emporia Arcade. They offer different sky-high platforming architecture, challenges and foes. Another aspect of 'Clash in the Clouds' you might enjoy are the 'Blue Ribbon Challenges' where you have to defeat your enemies using pre-specified weapons or attacks. As mentioned in the introductory paragraph, meeting these challenges gets you 'cash', more skilful fighting will raise you even more cash. What do you do with this 'money'? You can unlock goodies in 'The Columbian Archaeological Society' museum as well as earn trophies and achievements, also you can participate in combat leaderboards.
BioShock Infinite: Burial at Sea - Episode 1
This is a teaser trailer and is very probably going to be followed up with more revealing video trailers as time goes by. You don't get to see much in the trailer, just a tiny bit of 40s style film noire detective agency storyline. It concludes with the line "We were all buried at sea, we just didn't know it yet."
'Burial at Sea' is expected to bring along all new environments and character interactions, in a Booker and Elizabeth unlike those that we have seen in the main game. You might call the environment a parallel world. Whereas 'Clash in the Clouds' focuses on action the following DLCs expand the story and emphasise narrative bringing the characters back to the Rapture location of the original BioShock. The LA Times reports that the second instalment of 'Burial at Sea' will bring closure to Elizabeth's story as well as BioShock Infinite itself.
These two DLCs are the first of the three which are going to be available to buyers of the $19.99 'Season Pass'. GameSpot reports that this $4.99 initial 'Clash in the Clouds' DLC will be followed up by 'Burial at Sea - Episode 1' and 'Burial at Sea - Episode 2', which will retail initially for $14.99 each - so the Season Pass does offer some considerable savings in the short term.