As was promised via the official Battlefield Twitter page a week ago, EA unveiled Battlefield 4 at the Game Developer Conference (GDC) in San Francisco last night. The latest in the Battlefield series will be released on PC, PlayStation 3 and Xbox 360 in autumn, however no mention was made about any version aimed at the next generation consoles.
The 60 second trailer
In common with previous Battlefield games the Sweden based DICE studios are responsible for developing the game. Battlefield 4 will be powered by the Frostbite 3 graphics engine developed by DICE and offers "a future that is more human, dramatic and believable than anything before it".
EA say that the single player game will contain "huge environments, a playground of destruction, access to an arsenal of vehicles and the ability to direct squad mates", with multi-player game design elements incorporated into the single player gameplay.
At the unveiling Patrick Soderlund, Executive Vice President EA, said "To be this early in development, and to already be so polished is a huge achievement for the DICE team and reflection of their passion and commitment to driving the franchise forward." He continued "It is thrilling to witness peoples' reaction when seeing the game for the first time. It really makes you realize that we are at the beginning of a whole new era for gaming. As artists and craftspeople, we are focused on creating a dynamic, open design that brings people together with amazing, surprising unscripted moments that they'll talk about for days. That's the beauty of Battlefield".
Seventeen minutes of gameplay with Bonnie Tyler
The 17 minute Battlefield 4 gameplay trailer "Fishing in Baku" above, begins with the player "Recker" opening his eyes and finding he is trapped in a car with three squad mates, the car is slowly sinking under water...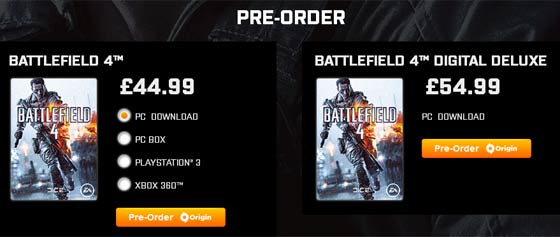 Also you can see from the pre-order page screengrab that there will be a PC Digital Deluxe version of Battlefield 4 available exclusively via Origin. The bonus in-game items in this pack are as yet unspecified.