The 12th annual Steam Winter Sale will open its virtual doors today. At the time of writing the Steam Store landing page hasn't been updated to reflect the opening of this annual sales event but it is still very early on the 20th Dec over in the US of A. Coinciding with the sale, Valve will start to accept voting on the various categories of the Steam Awards 2018.
A couple of days ago Valve previewed the Steam Awards 2018 by releasing the full list of voting categories and the nominees in each of the eight sections. I've reproduced the full list in tabular form below, so you can quickly see what you might be voting for.
Nominees for Game of the Year

PLAYERUNKNOWN'S BATTLEGROUNDS
MONSTER HUNTER: WORLD
Kingdom Come: Deliverance
HITMAN 2
Assassin's Creed Odyssey

Nominees for VR Game of the Year

The Elder Scrolls V: Skyrim VR
VRChat
Beat Saber
Fallout 4 VR
SUPERHOT VR

Nominees for Labour of Love

Dota 2
Grand Theft Auto V
No Man's Sky
Path of Exile
Stardew Valley

Nominees for Best Environment

The Witcher 3: Wild Hunt
Subnautica
Shadow of the Tomb Raider
Far Cry 5
DARK SOULS III

Nominees for Better with Friends

Counter-Strike: Global Offensive
Tom Clancy's Rainbow Six Siege
PAYDAY 2
Dead by Daylight
Overcooked! 2

Nominees for Best Alternate History

Wolfeinstein II: The New Colossus
Assassin's Creed Odyssey
Hearts of Iron IV
Sid Meier's Civilization VI
Fallout 4

Nominees for Most Fun with a Machine

Euro Truck Simulator 2
Rocket League
NieR:Automata
Factorio
Space Engineers

Nominees for Best Developer

CD PROJEKT RED
Ubisoft
Bethesda
Rockstar Games
Digital Extremes Ltd.
Square Enix
Capcom
Paradox Interactive
BANDAI NAMCO Entertainment
Klei
You will notice that the Best Developer section has double the number of nominees and this is due to being so highly-contested, says Valve, which excluded itself from the list.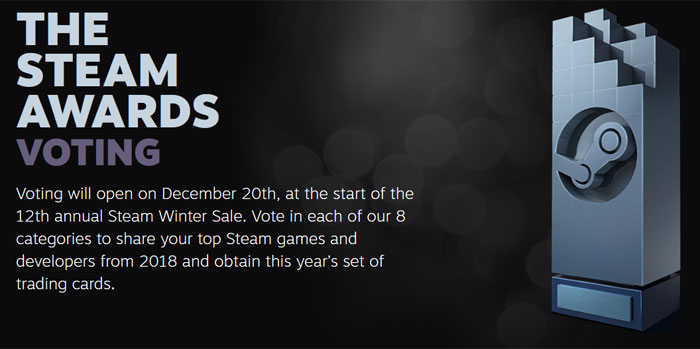 If you are interested in voting in the above awards, or checking out the initial sale offerings, check back with the Steam Store homepage later today.
PC-Steam and Xbox One cross-play
Earlier this week code-snoopers noticed that the latest Steam beta showed signs that "Valve and Microsoft are planning to improve cross-play between PCs and Xbox One consoles". Tom's Hardware reports that the Steam client code included Xbox-related networking features – making it easier for cross-play to be enabled in the future.
Microsoft has previously implemented initiatives to embrace cross-play so it isn't surprising to see this code in Valve's platform. I can't think of any negative impacts to Valve's Steam sales from this, so there should not be any commercial stumbling blocks here. However, we must remember that test features don't always make it to a general release of the Steam client.