A little over two months ago HEXUS reported upon the new version of Steam Play launched by Valve. Steam Play was designed to open up cross platform compatibility on Steam so Windows, Mac, and Linux gamers can play each other's titles, or play their games libraries on different computers. Valve detailed how it has worked on supporting Wine for a couple of years, and modified it with Vulkan support, games controller support and other tweaks and changes. The special version of Wine was dubbed 'Proton', and it had enabled 27 big-name Windows games to be playable in Linux via its first beta release.
A couple of days ago the Proton home page provided a project update. It boasted that "since the release of Proton only 2 months ago… 2,674 games work". These new whitelisted games "play just as well as on Windows," according to ProtonDB reports.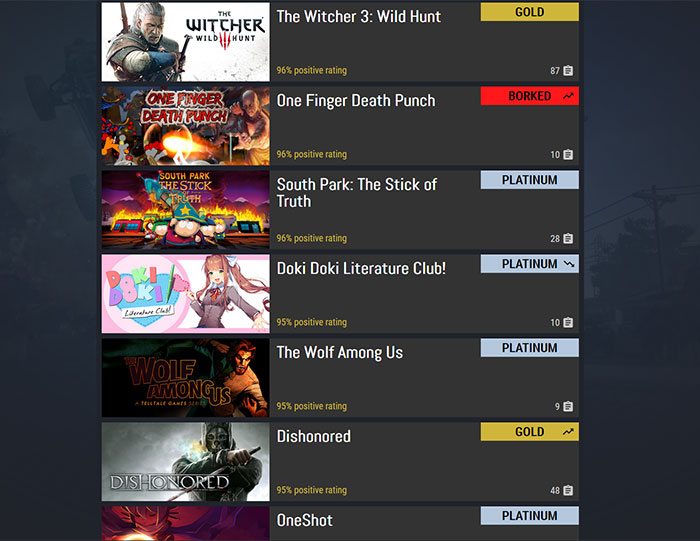 If you want to see if your favourite Windows games are now available to run in Linux via Steam Play you can visit the ProtonDB page and type in the game name. The smoothest running games are given a Platinum rating, and there are usually tens of users reporting in the game details how the game in question plays 'flawlessly' or similar. Call of Duty 4: Modern Warfare, for example, has 23 detailed user reports with system and hardware configurations and helpful comments regarding compatibility.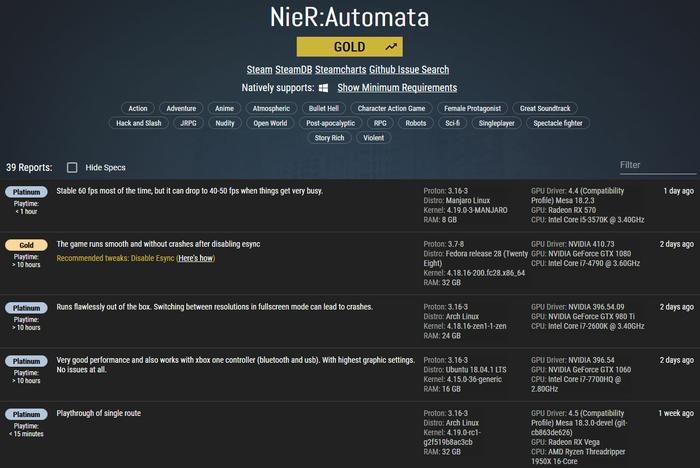 Nier: Automata example - GOLD, rising (click to zoom)
Moving down to a 'Gold' example, The Witcher 3: Wild Hunt has a wider mix of constituent reports ranging from Platinum to Borked - where the game won't start at all. However, the reports (87 at the time of writing) are mostly very good, thus the Gold status. At the bottom of the sale there are 'Borked' games such as PLAYERUNKNOWN'S BATTLEGROUNDS. Of the 19 reports shared I can't see that anyone at all has managed to get this game to run. The particular problem for PUBG appears to be the BattleEye anti-cheat system compatibility.
Steam Halloween Sale is now on
As leaked earlier in the week, the Steam Halloween Sale has now begun. This is a rather short one, ending on Thursday 1st Nov. Have a look through the offerings, including many 'horror games' and horror VR titles, here.