Do you remember the old days when graphics card makers longed for you to spend your hard earned cash on their wares that they would put together tempting bundles including the latest and greatest AAA games titles? According to a leaked promotional offer shared by VideoCardz, this promotional practice might be set to return shortly.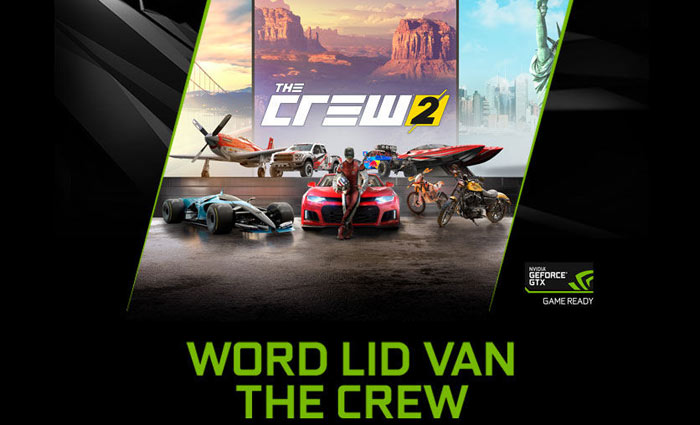 Looking back in the HEXUS archives and searching on the GeForce blog, Nvidia used to unleash new GPU and games bundles almost monthly until October last year. Then it seemed to give up on this promotional ploy.
Checking through AMD's GPU bundling history, you have to go even further back for such goodies to be seen. The last AMD games bundles were the convoluted RX Vega Radeon Packs, announced back in July last year. A couple of years earlier AMD's Never Settle bundles were much more generous and extensive…
Today VideoCardz spotted a promotion for Nvidia GeForce GTX 1080 and GTX 1080 Ti card buyers. I think the promotional graphic is in Dutch but the English translation of it is as follows:
For a limited time, buy a qualifying GeForce GTX product and receive The Crew 2 be the boss in Motornation with a graphics card, gaming desktop or laptop from the GeForce GTX 10 series. Explore cities, roads, rivers and America's airspace in an open world, with unrivalled performance powered by Nvidia Pascal, the most advanced GPU architecture in the world.

Be sure to get Game Ready and receive the Standard PC edition of The Crew 2 when you buy a qualifying graphics card, desktop or laptop with a GeForce GTX 1080 or GTX 1080 Ti.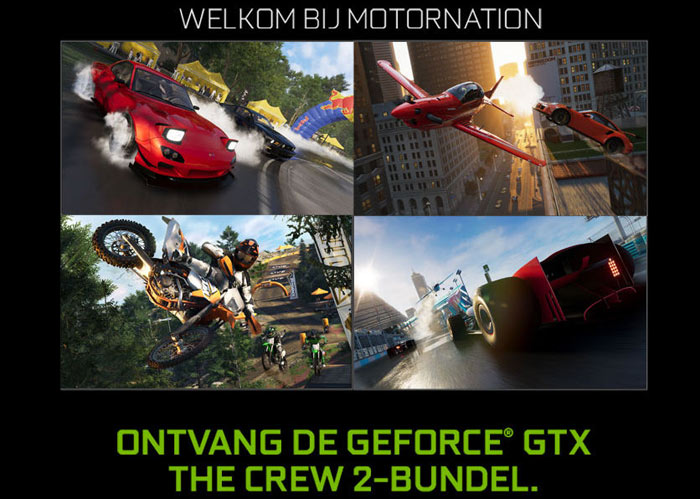 For a bit of background information about The Crew 2 - the minimum and recommended PC specs were published a little over a week ago. Interestingly, the game was featured on the Nvidia GeForce blog yesterday - with the sharing of a closed beta GeForce GTX Access Code, good until 1am PT on 4th June. The finished game is scheduled for release on 31st June.
With the Dutch promotional graphic leaked, and these promos often starting ahead of a game release, we might expect an official announcement of this new GeForce games bundle shortly.