Humble Codemasters Racing Bundle 2017
The Humble Bundlers have put together a bumper racing bundle featuring many of Codemasters' best games. The new Humble Codemasters Racing Bundle 2017 includes top racing games such as DiRT Rally, F1 2016, GRID 2, and lots of DLCs. Apparently the price of the full bundle would be as much as $443 but for the next fortnight you can grab the lot for $15.
For the entry level tier of $1 or more (in order to qualify for Steam keys) purchasers will get F1 Race Stars, F1 2011, F1 2012, and Toybox Turbos. The next tier up - beat the average - nets you at least 10 games / DLCs from Codemasters. The average price is currently $7.72 (about £5.81) and as well as unlocking Grid 2, F1 2014, F1 2015, F1 Race Stars with the Season Pass, a 60 per cent off coupon for Dirt 4, and a 40 per cent off coupon for F1 2017, an F1 2017 DLC - 1988 McLAREN MP4/4 Classic Car, DiRT 4 DLC - Hyundai R5 Rally Car, and the DiRT 4 DLC - Team Booster Pack, you are promised more content will be revealed a week from now.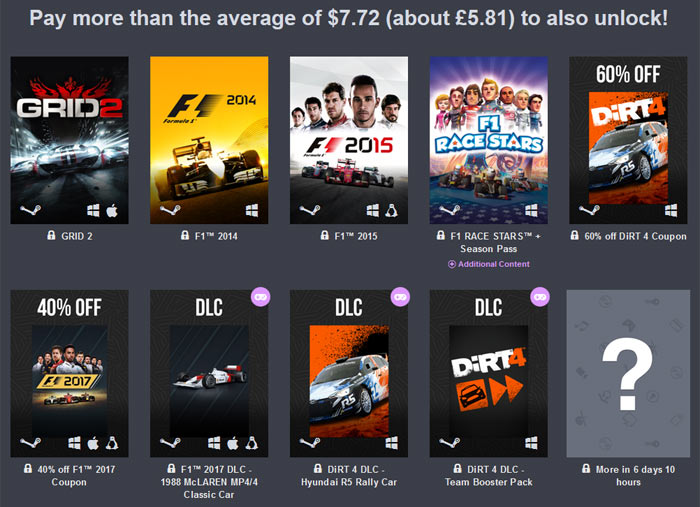 The top tier is priced at $15 (about £11.30) and adds Micro Machines World Series, F1 2016, Dirt Rally, F1 2016 Career Booster Pack, and the Grid 2 all-in DLC pack - plus again more content added in a week.

This time around you can choose how your payment is split between Codemasters, SpecialEffect, The Prince's Trust, and optionally another charity of your choice via the PayPal Giving Fund. The Humble Bundlers would also like a tip. This is proving to be a popular bundle with a high average price. According to the stats 18,720 people have purchased one of these bundles since launch about 12 hours ago.
Desert Bus VR
If the above high octane thrills and spills sound a little bit too racy for your tastes, here's an alternative in VR. The legendary boring 16-bit game Desert Bus has been reanimated for those who enjoy their reality virtual.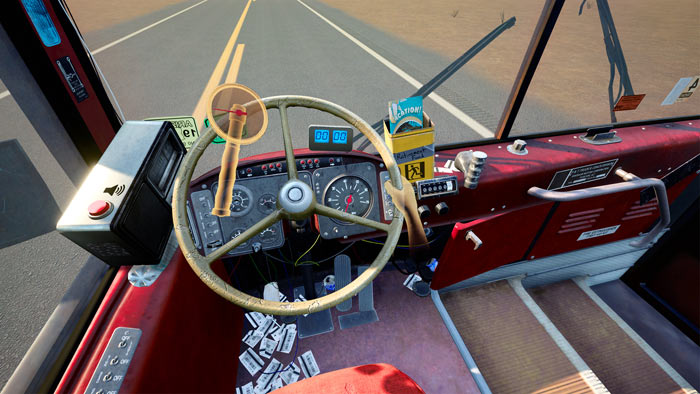 Now available for free on Steam, Desert Bus VR, takes on the original premise of driving a bus for the real-time 8 hour trip between Arizona and Nevada - Tuscon to Las Vegas. You can drive at up to 45mph and while the road might be rather straight and predictable your bus wheels are a bit misaligned so it could disastrously veer to the right if you don't pay attention. New with the VR version of this game is a multiplayer mode where you can be joined by passengers who can sit, wave and even through paper wads at the driver. Even if you don't have passengers, the bus has a radio, horn, operable door, and air freshener to keep you amused.
Desert Bus VR is available for free on Steam.