Shiver me timbers, we're giving away copies of the Pirate RPG from Sony
To celebrate the launch of the swashbuckling adventure Pirates of the Caribbean, Sony Online Entertainment is offering 5HEXUS.gaming readers the chance to win copies of the game.

As a captain in Pirates of the Burning Sea, you can choose among the French, Spanish, English, or Pirate nations, playing a naval officer, a freetrader, a privateer, or a pirate as you like. Action–filled ship battles take place at sea, where players can destroy or board and seize their competitors' ship. On land, a world of swashbuckling adventure awaits full of sword-swinging action. The unique player-driven economy means players can be a captain of industry too, running mines, lumber mills, shipyards and other large-scale operations to produce the tons of goods needed to supply every player in the game with what they need. Through the player-generated content system, players can create their own sail and flag designs to display in game and even model their own ships.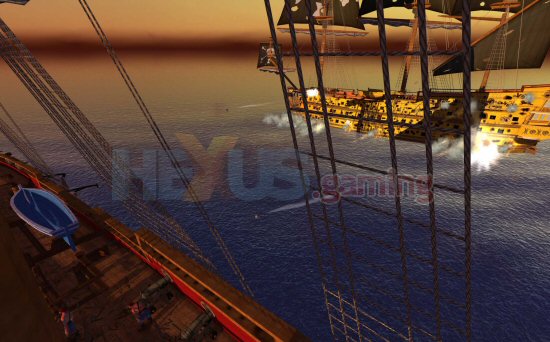 Click for larger image



Simply send your name and address with the header "Pirates", by clicking on the following link

Winners will be notified via email and the competition forum.The winner will be drawn from all correct entries received by the closing date of 24th January 2008, midnight GMT.

The usual HEXUS competition rules apply as stated below.


Rules and Regulations
The competition winners will be picked at random from all eligible entries that arrive by midnight of the closing date 24th January 2007

• No responsibility will be taken for lost or damaged entries. Proof of sending by email is not proof of entry
• In event of any dispute the judges decision is final and no correspondence will be entered into
• Only one entry is permitted per household. The winner will be notified by email no later than 14 days after the closing date
• The prize is a one copy of a copy of Pirates of the Burning Sea.
• HEXUS.gaming will do everything to ensure a speedy delivery of of your prize, we cannot guarantee a delivery date
• In the event that the prize offered is unavailable due to circumstances beyond our control, we reserve the right to offer an alternative prize of equal or greater specification.
• Competitions are open to residents in the UK who are over 12 years of age
• Entrants can be assured that no details will be kept on file or re-distributed.
• Prize Draws are not open to employees of HEXUS.net and their affiliates, agencies, suppliers, sponsors and members employees' immediate families.
• Submission of an entry will be taken to mean acceptance of these terms and conditions