Rockstar Games has announced four new versions of its "blockbuster detective thriller" L.A. Noire will be released on 14th November 2017. Probably of most interest to HEXUS readers (HEXUNIANS / HEXUPUDLIANS?) will be L.A. Noire: The VR Case Files for HTC Vive. Console owners won't be left out as Rockstar prepares new high res full DLC packaged versions of L.A. Noire for the Nintendo Switch, the Xbox One, and PlayStation 4. It's interesting to see that there's no PSVR version mentioned.

If you don't remember the L.A. Noire from its original release, this detective game has you cast as detective Cole Phelps as he investigates an escalating series of cases inspired by real-world crimes. As you solve crimes and get further into the game, a bigger picture will emerge of a "dark criminal heart" operating within post-war L.A.
The PC-based VR version of L.A. Noire is said to deliver "seven of the original engrossing, self-contained cases from L.A. Noire rebuilt specifically for virtual reality". You will partake in the game's detective work in an immersive interactive 1940s Los Angeles experience.
With your HTC Vive you will be able to enjoy the VR environments using real world physical motions including grabbing, inspecting and manipulating individual clues or using the detective's notebook to make notes or draw freehand. Furthermore, there are first-person driving high jinks, and you will be able to shoot out of your vehicle window, and more.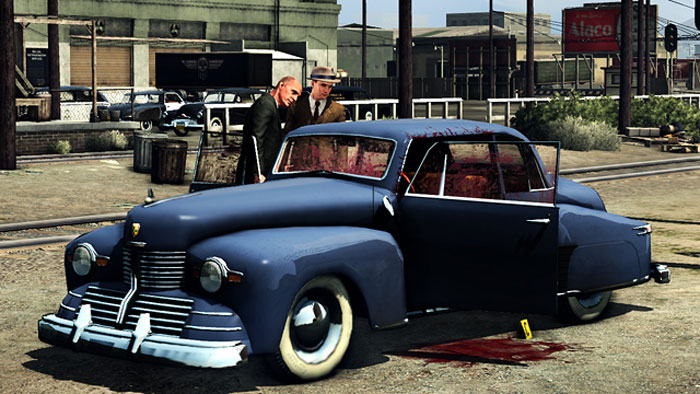 New console versions of L.A. Noire sound like 'GOTY' type game and DLC bundles, with remastered graphics for the new generation. For example the PlayStation 4, Xbox One and Nintendo Switch versions include the complete original game and all additional downloadable content. The PS4 and Xbox One are specifically said to come packing "technical enhancements for greater visual fidelity and authenticity, including enhanced lighting and clouds, new cinematic camera angles, high resolution textures and more". Meanwhile the Switch gets interesting new control modes using the Joy-Con with gyroscopic, gesture-based controls - plus contextual touch screen controls.