Valve is readying an update for Steam dubbed the 'Discovery Update 2.0'. The update is still a few weeks away and will bring several changes, amongst them a new policy concerning game screenshots on the Steam Store. This update has customers in mind and will help prevent folk being visually mislead over a game's actual graphical experience.
The upcoming update will enforce a policy which requires developers to upload only genuine screenshots to the Steam Store game gallery carousel section. Right now developers can upload pictures of concept art, pre-rendered characters and scenes, and so on to this space. Valve has considered this issue and already implemented the change with its own products. For example it has recently updated the DOTA 2 store page to remove/replace concept art from the top image carousel. You can see the many DOTA 2 image carousel graphics that have been given the chop in the image below.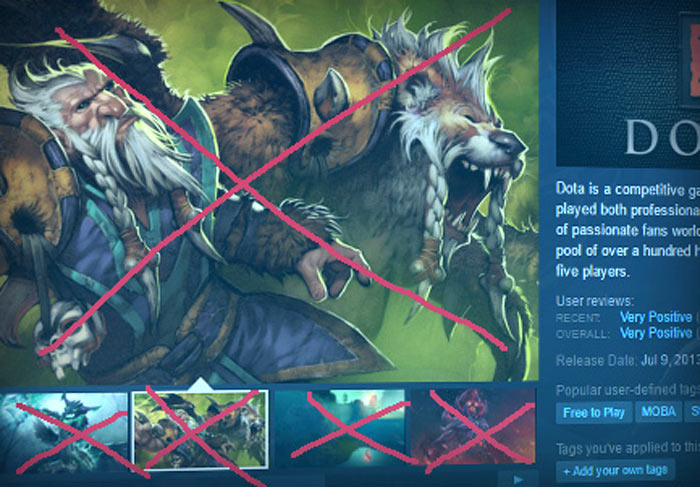 Valve admits use of too much artwork in the screenshots section
A Facepunch forum member and ex-Steamworks developer intern published the above picture and included the text from an email he/she received from Valve. The communication explained that Valve hadn't been "super crisp on guidelines for screenshots in the past". However, for customer clarity when making buying decisions, it had now decided to implement this policy change.
The essence of the policy is described as follows; "We ask that any images you upload to the 'screenshot' section of your store page should be screenshots that show your game. This means avoiding using concept art, pre-rendered cinematic stills, or images that contain awards, marketing copy, or written product descriptions. Please show customers what your game is actually like to play." Other images developers may wish to upload can be hosted elsewhere on the store page.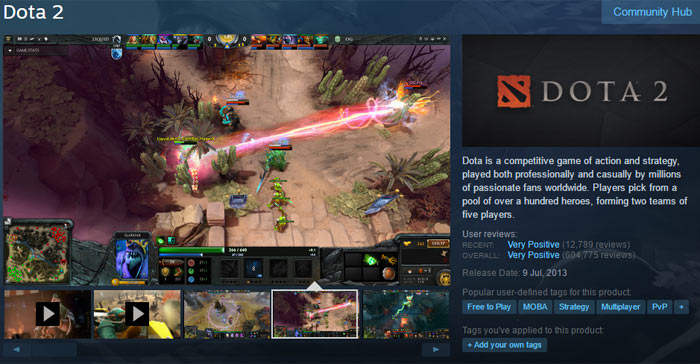 Updated DOTA 2 Steam Store page
Purported 'screenshots' have been at the centre of many a gaming industry controversy. Hopefully the firming up of Valve's Steam policy will provide gamers greater clarity and a firmer footing if developer 'screenshots' are misrepresentative of a shipping game.
Steam's Discovery Update 2.0 is expected to be released in time for the Steam Holiday Sale event.