Over the weekend games developer Digital Homicide seemingly committed financial digital suicide. The games maker was suing critics of its games on Steam forums to the tune of $18 million (£14 million). However, Valve stepped in to terminate distribution of all Digital Homicide produced games titles, as it doesn't like companies being 'hostile' to Steam users.

The news about Digital Homicide's legal action against its game critics broke on Friday. A number of Steam users were being sued and accused of "libel and slander," for harsh game criticism, reported Kotaku. The accused was being led by Jim Sterling who was a major voice within the "hate and harassment group" (Steam discussion forum), and onYouTube, according to Digital Homicide.
Digital Homicide was the developer behind a number of (usually) poorly reviewed Steam games. It complained to the courts that a string of Steam users would effectively stalk the company online to spam comments, make false accusations, and post negative reviews "to cause financial damage and emotional and mental anguish." The game developer's legal actions were therefore said to be a reaction to "organised hate and harassment".
In a short update to the story on Saturday, Kotaku reported that "Valve has removed Digital Homicide's games from Steam". In an official statement to Kotaku and others, penned by Valve spokesman Doug Lombardi, the explanation was simple "Valve has stopped doing business with Digital Homicide for being hostile to Steam customers".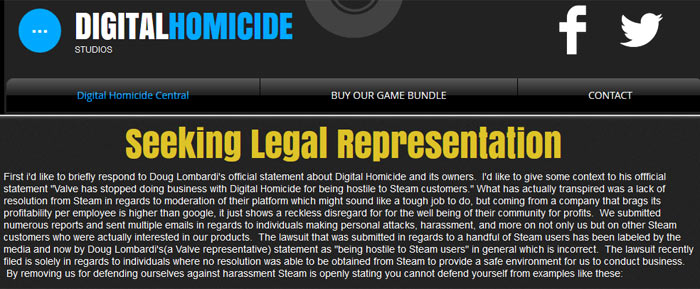 Digital Homicide is currently "seeking legal representation" and you can read its defensive statement above. You can't get the developer's games (such as the Wyatt Derp series, Not In My Crapper, or Reginald's Knightly Duties) on Steam anymore, however they are still available direct or from Amazon.