The Humble Bundle team recently revealed the contents of the January 2016 Humble Monthly Bundle and started the countdown to the February 2016 bundle. You have just 31 and a half days left, at the time of writing, to jump aboard and pay $12 upfront for the 'highly curated' mystery games bundle. This coming month the decision is helped along greatly by an instant unlock of a copy of Alien: Isolation, many will feel this is worth the admission price alone.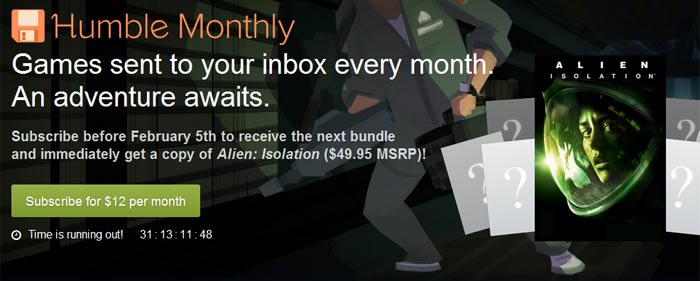 January 2016's bundle
Going through this news chronologically, on 1st January Humble Monthly Bundlers received Payday 2 as their early unlock. The additional games revealed to be in the mystery bundle were as follows:
The Talos Principle – A puzzle game
The Masterplan – Top-down strategy game
Mushroom 11 – Puzzle platformer
Grim Fandango Remastered – Point & click adventure
Spelunky – 2D platformer
A Fistful of Gun – A top-down Western-themed shooter
As regular readers will know, you can't now subscribe and get the January 2016 bundle. Once the contents are revealed, the bundle gets replaced with a countdown to next month's offerings with a single 'early unlock' game visible to reel you in.
February 2016 Humble Monthly Bundle
As mentioned in the intro, Alien: Isolation is the early unlock game for the currently live and purchasable monthly bundle. Depending where you look, this game costs as much as €49.99 but has been available as cheaply as £7.99 in the UK in a previous sale event. The game, launched just over a year ago, is well regarded and scored pretty well in most reviews on the web. If you enjoy the survival horror game genre and the Alien films it might tickle your fancy.
Bundles are fully revealed and unlock on the first Friday of every month. The February bundle will go live on 5th February. Subscribers can cancel at any time, even after just a single bundle, and keep the games they have collected in any bundles thus far. Five per cent of the proceeds go to charity. Unfortunately, for those who feel like they might purchase a regular subscription, there have already been repeats in some of the bundled games.