System Shock, the inspiration for the acclaimed BioShock trilogy, will be completely reimagined and remade for modern gamers, OSes and hardware, reports Polygon. Night Dive Studios were the developers behind the recent high definition System Shock: Enhanced Edition, and will be behind the reimagined game.
Despite having a fresh, young development team the reimagined System Shock will preserve the essence of the 1994 release, insists Night Dive. The CEO of the games studio, Stephen Kick, told Polygon that "We have been in contact with members of the original System Shock team and any future iterations of the System Shock games, and by this I mean both new titles in the series as well as major updates to the existing games, will be very true to the spirit of the originals."
old vs new enhanced edition (click to zoom)
System Shock: Enhanced Edition came out in September and brought along several much-requested modern features including mouselook support, support for higher resolutions, a remappable control scheme, along with a few bug fixes. It has a Metacritic score of 85/100. To show Polygon how the newest project is progressing Night Dive provided a range of screenshots comparing old and new games taken in the same areas of the game world (one example is embedded above).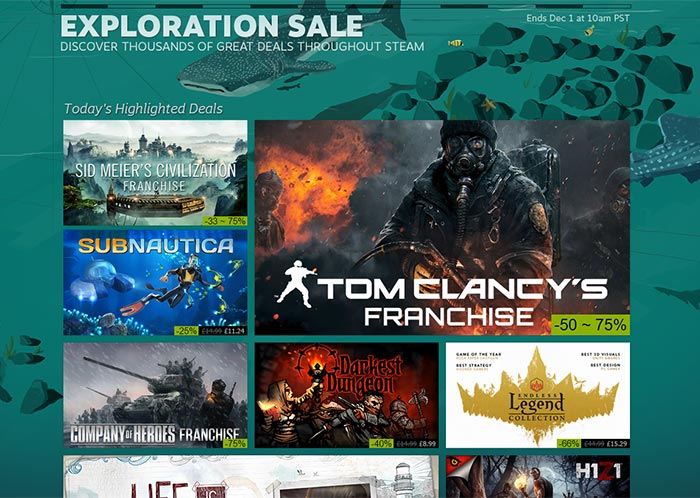 Steam Exploration Sale
Steam's autumn sale started a few hours ago. This year its called the Steam Exploration Sale. There are nearly 200 games on sale as this event starts and the 'exploration' theme link is pretty weak overall as was the case with the Halloween themed sale – but no one seems to mind. This sale event will end on 1st December.
Big name franchises you will find on offer in this latest sale include the Fallout games (but not FO4), Tom Clancy games, Sid Meier's Civilization series and the Company of Heroes games. If the System Shock news above has stirred your interest or feelings of nostalgia you can pick up the recently released System Shock: Advanced Edition for 50 per cent off at £3.49, and System Shock 2 (from 2013) for 75 per cent off at £1.74.