The Steam Monster Summer Sale is drawing to a close and, in the final few hours, PC gaming fans have the chance to grab some of the top sellers of the sale this year. The 'best deals' are all being repeated for Encore day right now. If you are interested you will have to hurry - there's only 4 hours left at the time this is published.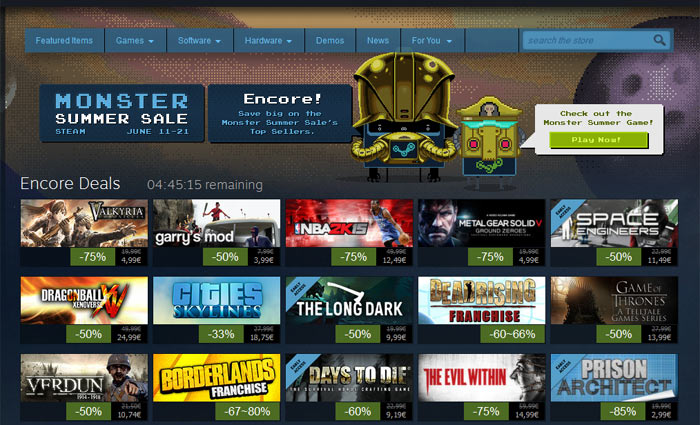 Steam Spy
In other Steam news today - have you ever wondered about the average number of sale of games on the Steam platform? Well, so has 'Steam Spy' Sergey Galyonkin. He also has been busy finding out geographic differences between Steam users, the most successful genres and considering the best strategies to score a Steam game success.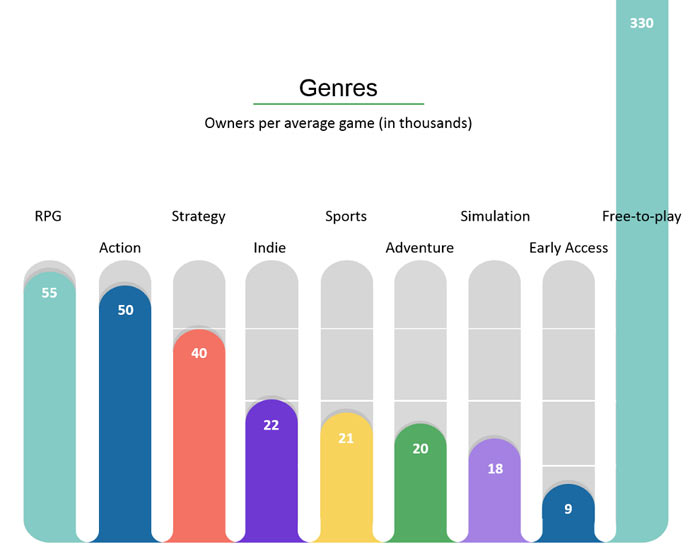 To answer that sales question first - the average Steam game sells 32,000 copies. Delving deeper, the biggest selling genre is RPG games with an average 55,000 copies sold. Meanwhile in the F2P section these games achieve an average 330,000 downloads with a 10 per cent paying conversion rate. Early access games score an average 9,000 copies sold.
UK 'plays and pays' the most
Looking geographically the USA accounts for 18 per cent of total Steam users - that's 22.5 million people. Open world games and shooters are most popular in the US and 28 per cent of all games owned on Steam were purchased by US residents. The next most populous markets are Russia with 13.6m users, Germany with 6.8m, and the UK 5.1m users. The UK gets particular mention as it is the country where users are "playing and paying the most, with an average Steam user spending 734 hours and having 41 game in his library," and some of the most expensive game prices.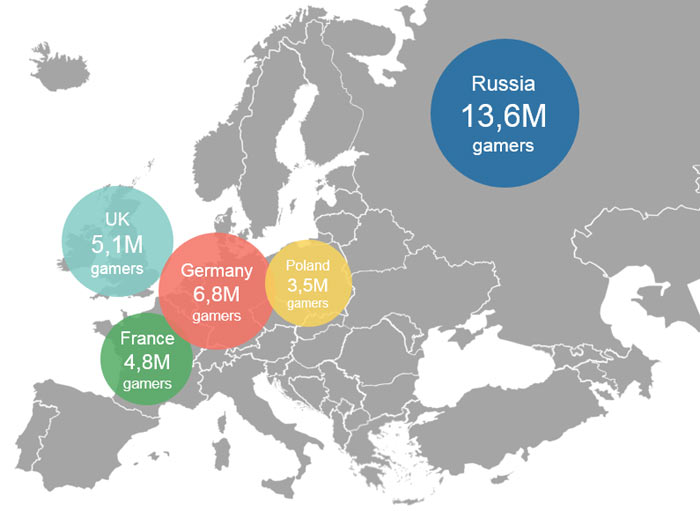 Galyonkin rounds off his informative Steam markets report with some helpful suggestions for developers. In this section he rounds on misconceptions and sales strategies. One of the main things developers should consider on Steam is that the Early Access launch is the only launch your game will get - so get it right. Also you should engage with gamers before and after launch (including offering support after launch), find your niche, localise the game where practical and don't discount too much - as it's hard to raise the price back up.