EA revealed new video trailers, footage and information about all its hottest gaming titles at the E3 show yesterday. The one and a half hour long presentation, available in full here, included information about Star Wars: Battlefront, Mass Effect Andromeda, Mirror's Edge Catalyst, the Need 4 Speed reboot, a plethora of sports title updates (plus an on-stage interview with Pele) and more.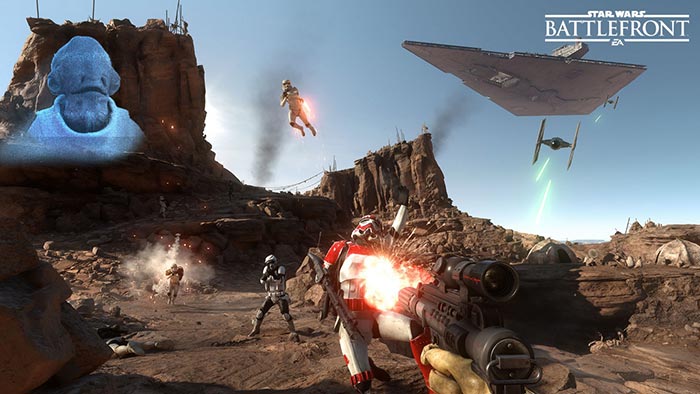 Star Wars: Battlefront
CEO Andrew Wilson confirmed that this upcoming Star Wars title is the centrepiece of the EA lineup this year. "It's the year of 'Star Wars' here at EA," he said. The game is designed to allow players to "immerse themselves in their 'Star Wars' battle fantasies," according to a senior producer. Graphics are rendered using EA's Frostbite engine.
The games publisher revealed a video comprised of "actual gameplay footage" recorded from a Sony PS4 console. The five minutes of action starts with a rebel soldier in action on the snow and ice planet of Hoth. We also saw gameplay from inside the AT-AT walkers, and TIE-fighters. A final flourish was provided to the video by some light sabre action.
EA said that the final game will offer single player missions, large-scale battles with up to 40 players and smaller 8-player modes. It is due for release on 17th November this year.
EA also published a 'Survival Mode' trailer for E3 2015, see below.
Mass Effect Andromeda
EA faded in this game trailer to start its E3 presentation. This non-gameplay trailer, with Johnny Cash soundtrack, prompted us to "discover a new galaxy". See below.
Mirror's Edge Catalyst
This new free running game will let us in on the background of Faith, the protagonist. Mirror's Edge Catalyst eschews any linearity and allows the player to explore more than ever. It is due to be released on PC and next gen consoles on 23rd February next year.
Need for Speed
The reboot of Need for Speed will be released on 3rd November on PC and next gen consoles. It will offer players "Five Ways to Play" - Speed, Style, Build, Crew, and Outlaw. However players can combine the styles into their own unique blend. Enjoy playing through five action packed overlapping stories.
Unravel
This is a new IP from EA centred on a character made from a ball of wool. As you move so you unravel. In this cute exploration based platform game you can make use of your unravelling yarn to Tarzan-swing, and make bridges across otherwise inaccessible divides. A player can even harness the wind for flight (via a makeshift kite) or fish to speed across water (via a makeshift raft).
EA also announced and showed updates for its sports range of games. FIFA 16, NHL 16, Madden 16, and NBA Live 16 are all to benefit from updates and tweaks. The games publisher even got Pele on the E3 stage to chat about the latest FIFA game.