Valve has announced that it has launched a 'beta' live streaming feature in its popular games client Steam. It will begin to compete with Twitch as it breaks into the streaming website's territory, reports Eurogamer.
The new feature, now available in beta, is called Steam Broadcasting. It will allow players to watch their Steam friends play games with the click of a button. Users can browse their friends list and opt to "watch game" to see those who are currently in a game session. Alternatively beta users can choose to watch those videos of users who made their streams publicly available through a game's hub page.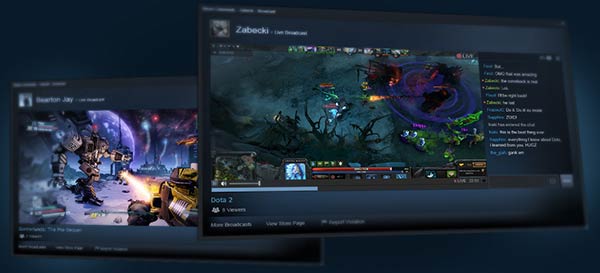 To set up Steam Broadcasting, users need to opt into the Steam Client Beta via the Steam settings panel. Once they have, they will be given options to select who gets to watch their games: everyone, friends at any time, or friends with a request to gain access. From the other side of the equation, users could invite their friends to watch their sessions, should they so wish. The broadcasting options will be presented the first time you get a viewing request. This new social video streaming is set allow more compelling interaction between players, making it easier for friends to advise those having trouble with a level, as they will be able to give live pointers and feedback.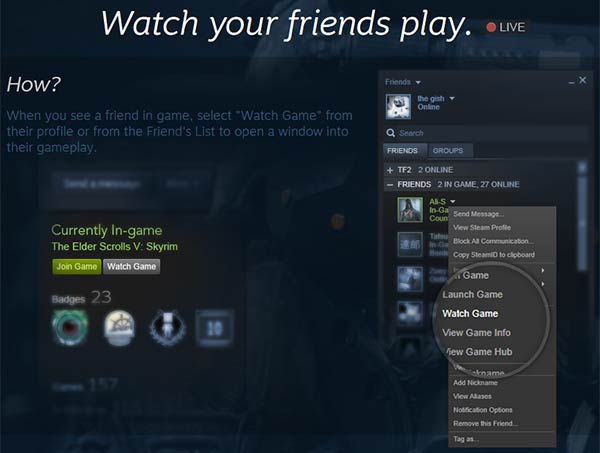 Broadcasting only starts when someone joins to watch and it ends when the game is quit. Players have the option to broadcast their desktop to stop the stream from ending, but the broadcasts are only available live at launch and can't be saved for later. This may change once the feature exits beta though. Steam Broadcasting is currently supported on Windows 7 and 8, with Mac and Linux support said to be coming later.
It seems like a canny move for Steam to add this new broadcasting option, and the firm is obviously eager to do so since Twitch has already proven the popularity of such streams. With over 100 million active users, Steam is known for its enthusiastic PC gamer following, many of which use Twitch and Steam simultaneously, therefore the addition of Steam Broadcasting could essentially be eliminating the need for players to use multiple programs while they're gaming.