With Black Friday and Cyber Monday on the way there are lots of news releases coming out concerning sales of this and that. Unfortunately for UK residents the most eye-popping bargains appear to be in the US, but we hear about these unobtainable bargains all the time thanks to the news all over the web and the geographically insensitive emails we get bombarded with. However, just like last year, Steam is having a seasonal sale and plenty of users outside the US can enjoy it too.
Valve hasn't announced or actually said anything about its impending Steam Sale yet though. It looks like the 'surprise' has been let out of the bag by PayPal. VG247 reports that PayPal has sent out an email to some customers concerning the sales event. You can see a screenshot of the email below thanks to VG247.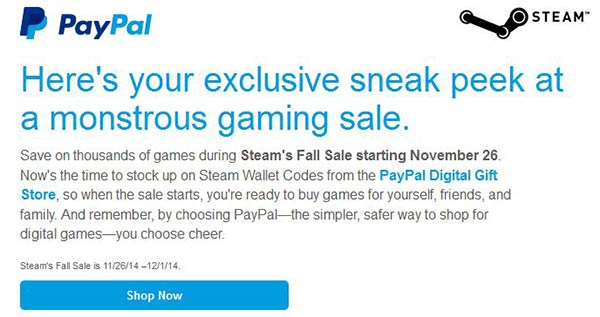 PayPal has quite clearly outlined the upcoming Steam Sale; its start, duration and end. Email recipients were told that the sale, encompassing "thousands of games" starts on Wednesday 26th November and will finish on Monday 1st December. PayPal advises users to "stock up on Steam Wallet Codes from the PayPal Digital Gift Store" in readiness for the PC, Mac and Linux gaming sale offers to come.
While the sale might kick off on Wednesday VG247 recommends buyers to stand off a bit for "deeper discounts on November 28," - that is the actual 'Black Friday'.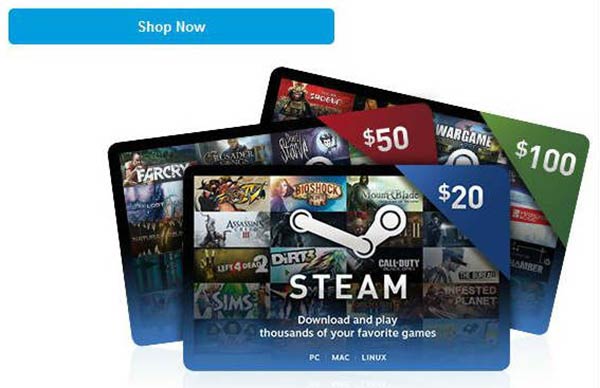 Black Friday and Cyber Monday in the UK
The popularity of this sales season continues to grow in the UK. HEXUS received an email yesterday saying that the UK retail sector is expecting a "phenomenal" amount of sales on Black Friday and around £281m of sales on Cyber Monday alone, 2.9 per cent up on last year's total spend.