Valve updated the Steam Store website design late last night. Along with the new look and feel the 'Steam Discovery Update' provides a smarter shopping experience which provides personalised recommendations based on your gameplay history and other Steam stats. The store front is also customisable by the user to filter out titles you already own or have indicated you are not interested in, for example.
With so many new titles arriving in the Steam Store it's hard for a user to find games that might appeal without digging around for some time. Valve is aware of this 'too much information' style problem that seems to be the major reason behind the implementation of this update. You can customise your view, selecting which types of products you want to see in each section of the webpage layout.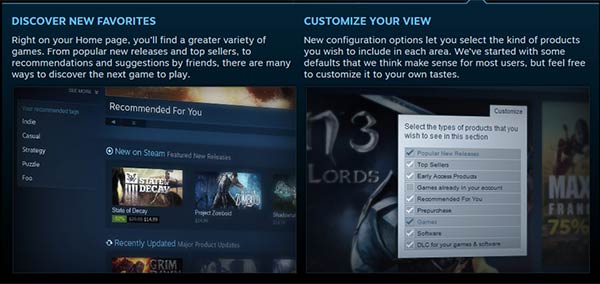 A page discussing the update explains; "In the past nine months, over 1,300 new titles have been added to Steam. We know you can't play them all, so we've updated Steam with new features and functionality to help you discover the best new releases, the classics, and the unique indie gems you might be interested in".
The Steam Home page is probably where you will first notice the changes. By default you will see new titles, recent major title updates and updates based upon titles "similar to games you play" in the upper area of the Steam Store page. All these sections are expandable.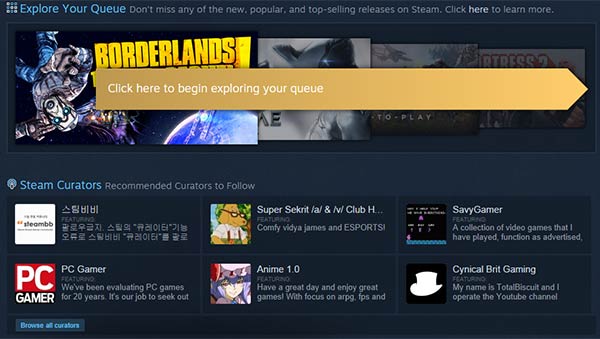 Below the fold you will see (unless customised) further sections including 'Explore your queue', described as "a powerful, new way of exploring the most popular new releases that you haven't yet seen". It is updated daily to tempt you with new top sellers. Here you can choose to follow the game, add it to your Wishlist, purchase it, or indicate that you are not interested. That will help the Steam Store tailor its recommendations more accurately.

Other additions to the store include Steam Curators who publish reviews and recommendations on Steam forums. So you can follow these curators' picks and comment and rate their recommendations. This is augmented by a regular recommendation feed.
Finally Valve has sought to improve search and filtering by name, tag, description or features. It suggests users may be interested in searching terms like 'Twin Stick Shooters,' or 'Vampires' or 'Co-Op Dungeon Crawler with Steam Trading Cards' to uncover appealing gaming gems.
In other Steam news the platform now has over 100 million users and 3,700 games to choose from.