The official 2K Games United Kingdom Twitter account has started a campaign to tease BioShock fans, but it isn't giving much away. Over the last two days it has uploaded the same image twice; firstly asking us to "discuss" it and secondly teasing us "Oooo, what COULD this mean?!". Well, we'd appreciate a bit more to go on. The second tease could at least have used a different image, as an extra clue.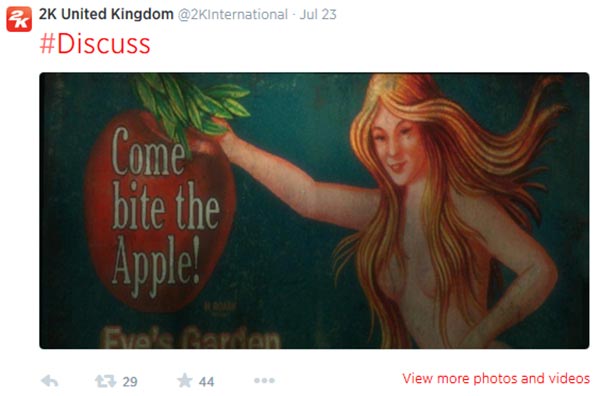 The picture from these two Twitter teases comes from the original BioShock game. It is a detail from one of the adverts you will see within Rapture, publicising a kind of strip club 'Eve's Garden at Poseidon Plaza'. The advert illustration shows a golden haired nude lady holding a large apple with "Come bite the Apple!" inscribed upon it.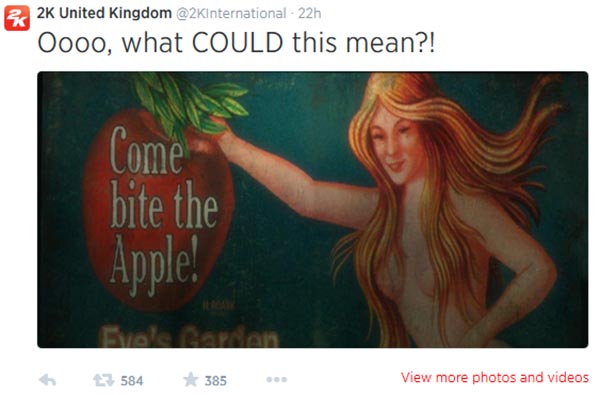 What could we get in terms of new games? Well as CVG points out, BioShock Infinite: Burial at Sea Episode 2 was the final chapter in Booker and Elizabeth's story. Also Irrational Games announced its closure in Feb this year, except for the retaining of a small team of 15 developers. So it's tricky to know what development team would bring a new game to fruition...
As mentioned in the intro – we don't have a lot to go on with these two teases but from various suggestions I have read we could be seeing a tease for:
HD remixes of the BioShock series
The BioShock games being ported to new platforms such as the next gen consoles or PS Vita
A new Free-to-Play BioShock game set in a mermaid strip club
Do any HEXUS readers have any ideas about what might be coming thanks to these teasers? Also what BioShock related announcement would readers like to see?