Developers who publish their wares on Steam are will shortly be able to set their own time-limited discounts and opt-in to upcoming sales events. A new Steamworks tool facilitates this price and sales event tweaking. Previously Steam and its associated developers had to work together to coordinate such promotional pricing activity.
Games magazine Polygon first became aware of the new Steamworks tools via a Steam developer post of screenshots to Reddit. Following this heads-up Polygon has confirmed with Valve the existence and rollout schedule of the feature and its full intended purpose.
Doug Lombardi from Valve confirmed the new pricing features. The reasoning behind the changes are apparently to bring developers and customers closer together. It certainly seems to streamline pricing decisions and allow developers a quick way to adjust their marketing plan using very important aspects of the Four Ps.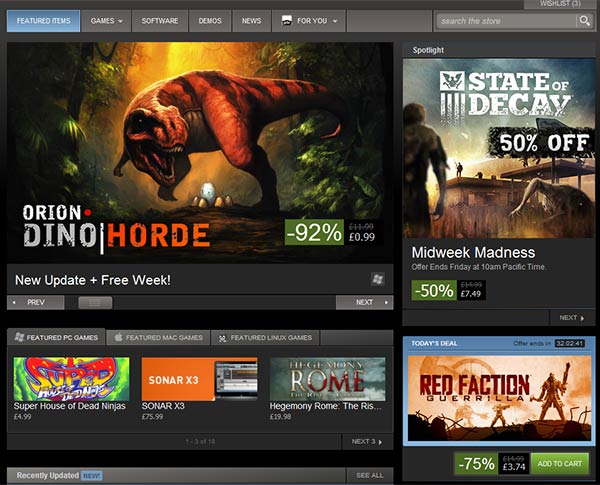 Typical Steam sales promotions, running today
"As with the addition of a 'Recently Updated' section to Steam, this is another effort to shorten the distance between developers and customers," Valve's Lombardi told Polygon. "This new Steamworks tool allows developers to configure discounts for their own products, on their own schedules. They can define custom sale periods or opt in to regularly scheduled sales. This will enable developers to better coordinate their promotions with events, announcements, or major updates they are planning for their products."
Further mechanics of the sales promotion process were revealed as follows:
Developer product landing page allows choice of product
Detail page allows developer to 'edit discounts'
Special offer sales can be set to run for up to two weeks
Steam's own weekly sales can be opted into up to two months ahead of time
Steam sales are pretty popular in the PC gaming community, especially the big seasonal events. Some gamers actually admit to just buying games in such sales as the prices are 'so cheap' but never getting round to playing many of the purchases.