eSports or Electronic Sports is the term used for competitive gaming that takes place over the internet or over a LAN and is swiftly becoming a big money venture. The largest cash prize in e-sports history was won by Johnathan "Fatal1ty" Wendel, who went home with US $150,000.

As eSports gathers pace across the world the UK lacks a decent venue for its young professionals to practice in, socialise, and compete against the world's greatest players.

Although there are dozens of LAN centres across the UK that cater for PC gamers, there isn't one huge venue where all of these gamers can gather together and participate in their favourite pasttime. Well that could all be about to change with an ambitious project that will bring together both PC and Xbox gamers in one place, a central hub to take on the gaming world.

Britain may soon have two venues, one in central London and one in Birmingham, that could act as a central hub for all UK major gaming competitions both on Xbox 360 and on PC.

The planning is in the early stages and the brains behind the new venue are Sujoy Roy, the UK's first professional video gamer. and IGUK founder Dominic Mulroy. Both Sujoy and Dominic have worked closely together in raising the profile of esports in the UK, both through their LAN centres and as World Cyber Games organisers.

The idea was born through a company in Kazakhstan who contacted them both with view to a potential investment in a national gaming centre. They couldn't have chosen two better people to create the plan to provide the UK with a sparkling new venue that will attract gamers from across the world. It was Sujoy's frustrations with current gaming centres in the UK, that has fuelled his passion for getting involved in such a big venture, "They tend to be small, with a poor level or service, not built to a high standard, located in the wrong places, with prices too high and computers too slow. I'm being a little critical, but I do include my own gaming centres in this summary. The problem is that it is a catch 22 situation. To build a really good gaming centre, you need the money to start with. If you don't have the money, you end up cutting corners, not putting in enough staff and never making enough money to ever expand into the all-singing, all-dancing centre that will keep customers happy and make a big profit," he said

The fact that the UK uses multiple, unsuitable venues for events is hardly ideal and now Sujoy and Dominic have released firm plans for the two exciting venues.

Concept plans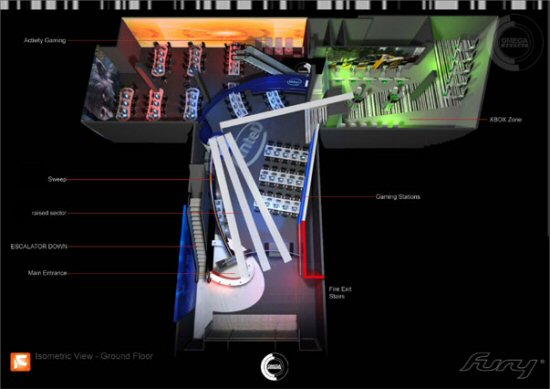 Click for larger image



The entrance area is a showcase ground where we can create a high quality exhibition for any sponsors. Also due to legal restrictions in the UK, we need a separate area for under 15's. The upper floor will only be accessible to those 15 and over. Missing from the ground floor plans are the separate business suite where there will be standard Internet access, printing, fax and other document services. We will also have a PC components shop (via an online retailer who is providing free delivery to our customers) and maybe a pro gaming store too.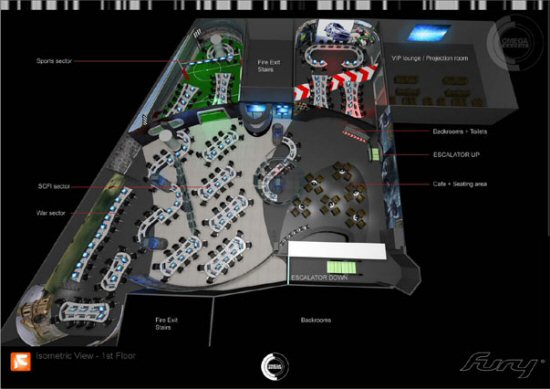 Click for larger image



The first floor is currently planned to be zoned off to different gaming genres. These haven't been finalised yet, but again it is the general idea that we want to show. Each zone has a different feel and texture to it. For instance the sports zone feels like a football pitch with crowds on the walls and astroturf on the floor. The racing zone will have rubberised tarmac and chevrons. We want to avoid straight rows of tables and the classroom feel that creates (but it's possible we went too far with the shapes). The chillout room on the top right is sound-proofed from the rest of the venue so you can escape the gaming environment in the same building and maybe watch a film or just relax out of the way. We're making the floor of this room cushioned to make it comfortable even sitting on the floor. Also not on the plans are the extra utilities such as bathrooms, lockers and showers, which we'll need since the place is going to open 24 hours a day, every day of the year.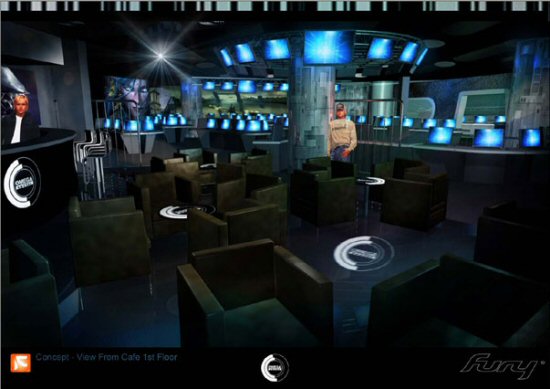 Click for larger image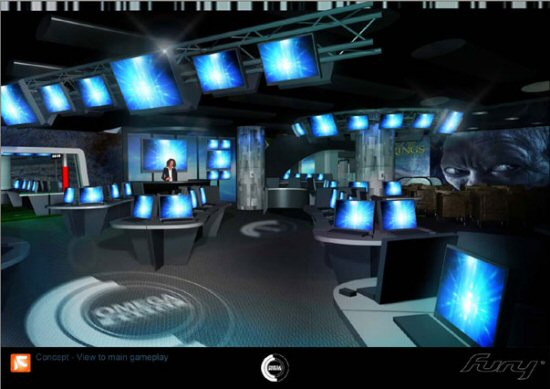 Click for larger image



This venue is not just for those professional gamers, but it will be the biggest venue in the UK for all gamers. A chance to meet up with like-minded people in a place that is kitted out with the best equipment and best games.

These plans are still in the initial stages and there will be many changes before we actually see the venue with our own eyes. This could be the new Wembley of the gaming world. We can't wait!

For further information on eSports and the venue plans visit : ES Reality.com