Score free-kicks, win prizes. That, in essence, is Dell's online World Cup footie game but, as in life generally, the devil's in the detail.

For a start, scoring ain't easy in the Flash-based game (Flash Player 7 or better needed). Our pathetic attempts resulted in no goals, though perhaps the HEXUS.gaming gurus would have been banging them in from the start.

Then there's the fact that, if you do master the controls and get your eye in, what you're most likely to win is discounts off all-in-one printers and Axim handhelds. And how many of those are you going to want to buy?

There is, however, a draw every day until July 10 in which the winner gets an Axim X51 handheld, though that's one Axim per day right across Europe, plus one overall grand prize for the duration of the compo - a Dell Inspiron XPS M1710 gaming notebook.

The games' home page makes it all sound so easy,



Play this online interactive game to win daily prizes including instant discounts and a

Dell AximTM Handheld!

There's also a final grand prize draw to win a

Dell XPSTM Notebook

- the ultimate in gaming.

Score as many "Free Kick" goals as possible in 2 minutes - earning bonus points for more skilful shots. Your score will be added to your selected country in the league table.

Score over 750 points and get 20% off selected Axim Handhelds. With a higher score of over 1500 points, you'll receive 30% off selected All-in-One printers.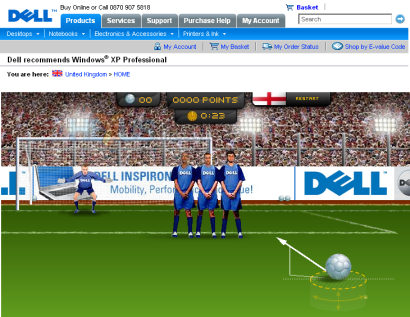 The detail is to be found in the set of rules that's also accessible from that page. For starters,



· For scores between 750 and 1499 points, a discount voucher will be issued for 20% off the Axim X51 520. For scores over 1500 points, a discount voucher will be issued for 30% off 924 and 944 AIO printers.

· Participants can play multiple times but only one entry per day will be accepted from each person for the prize draw.

· Participants must be over 16 years of age and reside in the United Kingdom. [We're presuming that Dell France, Dell Germany and all the other pan-European Dells have similar caveats about residence. We also kind of think that the only players willing to work at the game for long are going to be under 16]



Hey, but this is just us being our usual cynical selves. You might be in the market for a bunch of all-in-one printers and handhelds and even find that the game is a doddle to play. But what's more up our street is that soothing Flash "game" badger, badger, badger.

Want to tell us your thoughts on Dell's footie game (and boast about how easy it is)? Or share links to favourite Flash sites? Then join us in the HEXUS.community.



HEXUS.links



HEXUS.community - forum thread about this article
Dell Football Fever - home page
Dell XPS - home page
Dell Axim handhelds - home page
HEXUS.headline - Little & LARGE- Dell's contrasting gamer-ready XPS portables