The 2013 Toy Fair in New York City finished yesterday and according to a report by ABC news the event was dominated by toys requiring another toy – the Apple iPad. This year's fair, the 110th such event, played host to around 20,000 retailers and showed off approximately 150,000 "innovative toys, games and youth entertainment products".
PopSci magazine described last year's Toy Fair as heralding the year of the iPhone toy, with "appcessories" to be seen everywhere. The popular science magazine, hence its name, said such toys were everywhere again this year and, seemingly irked by this fact, chose to ignore iDevice powered toys in this year's "best of" roundup on its website.
ABC News didn't have such qualms and produced a video entitled "iPad Toys Take Over", embedded below, showing new "toys" like the iPotty and classic toys such as the Barbie and Nerf range are now integrating iPads into their play.
The ABC report points out that Android tablets were conspicuous by their absence at the fair. With Android tabs so plentiful, and often much more affordable, it's odd that the toys on show seldom made use of these alternative tablets. Asked about this very subject Amber Pietrobono, a marketing associate at Fisher-Price, said "We monitor the landscape so we are always looking at all the devices and who is using what. With kids 3 to 10 being the largest growing segment of tablet users, we are monitoring it, but right now we are focusing primarily on iOS." According to the latest Neilsen market research only 29 per cent of kids wanted a tablet that wasn't an iPad. Toy manufacturers don't want to limit their new product's appeal.
These toy applications may be one more reason why iPads have become the most popular electronic pacifiers of our children, beating consoles on "Dear Santa wish lists" during the recent holiday season.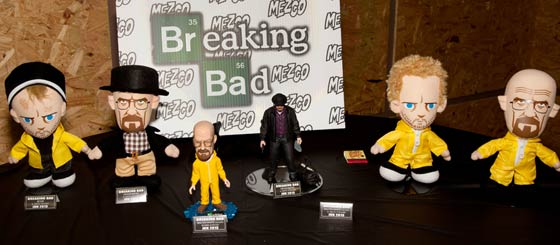 Also at the Toy Fair 2013