A no thrills, true gaming team

Many clans no longer stick with a few close allies in an attempt to battle their way to the top of the gaming ladder. Some teams now boast huge communities, and none more so then Mousesports, the latest PC gaming clan to be sponsored by GeIL,one of the World's leading DRAM suppliers.

Mousesports are one of the lucky teams to be fully sponsored. They are a huge community, so vast that Swedish based player Kim Hammar didn't even know how many players were in their team.

I hooked up with Minh Nguyen and Kim Hammar, two of the team's top Warcraft 3 players, to ask them why they were at CeBIT 2006, and what their plans were for World domination.

Mousesports have a professional set-up, they sell clan merchandise, have clan managers and attend the World's top events.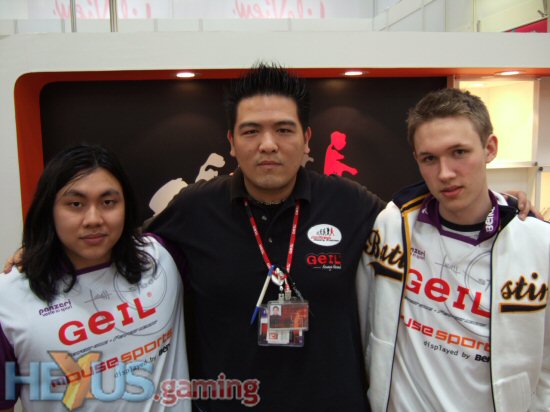 Click for larger image



Clan sponsorship is already huge in the States and, over the next two years, it appears it could take off in U.K. There are so many clans out there, I wondered how teams beome recognised enough to gain sponsorship? Is it really their superb gaming skills? Is it their attitude towards gaming? or Is it their marketability?

There is no doubt that the two guys that I met from Mousesports have an extreme passion for gaming, both Minh and Kim play Warcraft 3 religiously every day, in order to be able to compete with the World's top players. These guys deserve to be sponsored, their clan has been running since 2003, and they just love what they do. To them, sponsorship is an added bonus that they didn't expect. They're continuing to play the games they love, but without the added pressure of having to fund their own trips to events.

GeIL sponsor Mousesports due to their team's proven dedication to PC gaming, and their skill in the field. Their team have a number of superb players, not only on Warcraft 3, but Quake IV, Unreal Tournament, Counter Strike and even Fifa. There huge community allows them flexibility to be reach a high standard in a number of games, and also ensures that the less abled players are constantly learning from the more experiencced ones.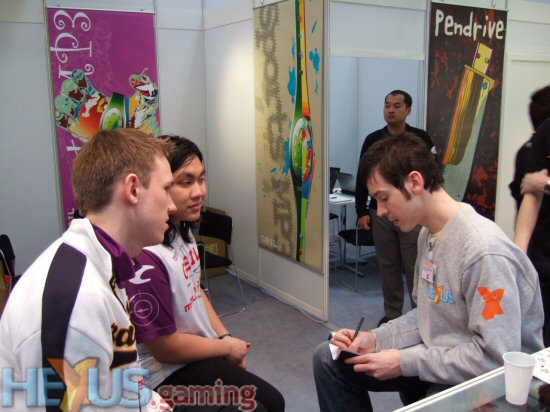 Click for larger image



Mousesports biggest achivement was placing first in ESL Pro Series on Counter Strike, where they took home $15,000 prize money, but they've also won a total of 117 awards since the clan was formed.

On asking the guys about their future plans, ambitions, and whether they hoped to achieve world domination, they played down their ambitions. Now it may have been the language barrier, their English was far better than my German, but I had expected a certain amount of PR spiel.

Then I realised that their strength doesn't lie in communications with the media, they aren't PR people, they are gamers who've been flung into the spotlight. These guys will continue to play these games vigourously, whether they are sponsored or not. It's their passion, it's their life. They are humble, despite their long list of achievements. The sponsorship hasn't changed the team nor their attitudes towards gaming. GeIL have recognised the hard work and rewarded them for their efforts. It's about time more companies took a leap out their book and put their faith in some of the great clans in the U.K.

It was great to spend time with an excellent team who displayed no arrogance, despite their acheivements. They're just good at what they do and don't need to boast. GeIL have sponsored this team for exactly the right reasons, not like certain companies who sponsor teams just because they look good.

We wish them every success in the future and hope that they have opened the gateway for other clans to become recognised and to gain sponsorship deals throughout Europe and the U.K.

For more info on Mousesports visit their website here