Official: Lara Croft is hot!


The international face of action hero Lara Croft has today been revealed as an unknown 20 year old model from Bethnal Green, London.

Karima Adebibe, is set to be catapulted into the world of superstardom after being cast from thousands of hopefuls in an international search to fill the shoes of one of Hollywoods' biggest stars.

Karima, a self confessed tomboy and Top Shop sales assistant, will need all her reserves of energy for the adventures that lie ahead in one of entertainment's most challenging acting and modelling roles. Starting immediately she will embark on a gruelling training programme which includes an SAS survival, combat and semi automatic weapon firing course in Eastern Europe and a crash course in world archaeology, deportment, elocution and etiquette lessons in order to portray Lady Lara Croft, the 11th generation Countess, archaeologist and action hero.

Once completely trained in the ways of video gaming's leading lady, Karima will be lining up a host of international modelling assignments, starring in TV commercials, appearing on chat shows and is set to be travelling the globe for the next two years.

"This is an incredible opportunity for me and one which I plan to grasp with both hands" said Karima. "It's a huge challenge to follow in the footsteps of people like Nell McAndrew and Angelina Jolie, but life is all about challenges and this is perhaps the biggest one for a model and actress."

"Karima has all the assets needed to accurately portray the world's favourite female action hero" said Matt Gorman, Brand Controller for Tomb Raider. "Lara Croft Tomb Raider: Legend sees Lara at the very height of her powers this makes Karima the 7th and most important Lara Croft yet."

Already tipped as 'the blockbuster video game for 2006' this will be the seventh game of English publisher Eidos' hit series and sees Lara Croft return to her tombraiding roots. Celebrating its 10th anniversary this year, Tomb Raider is one of the best selling videogames of all time. Lara Croft has transcended games, entertainment and technology into action figures, comic books, adventure novels, and two major motion pictures.

Karima follows in the footsteps of previous Lara Croft stars, Lucy Clarkson, Rhona Mitra, Nell McAndrew, Vanessa Demouy, Lara Weller and of course Angelina Jolie in the Tomb Raider movies.

Lara Croft Tomb Raider : Legend is released on April 7th in Europe and April 11th in North America on PlayStation 2, Xbox and PC with Xbox 360 and PSP versions to follow shortly after.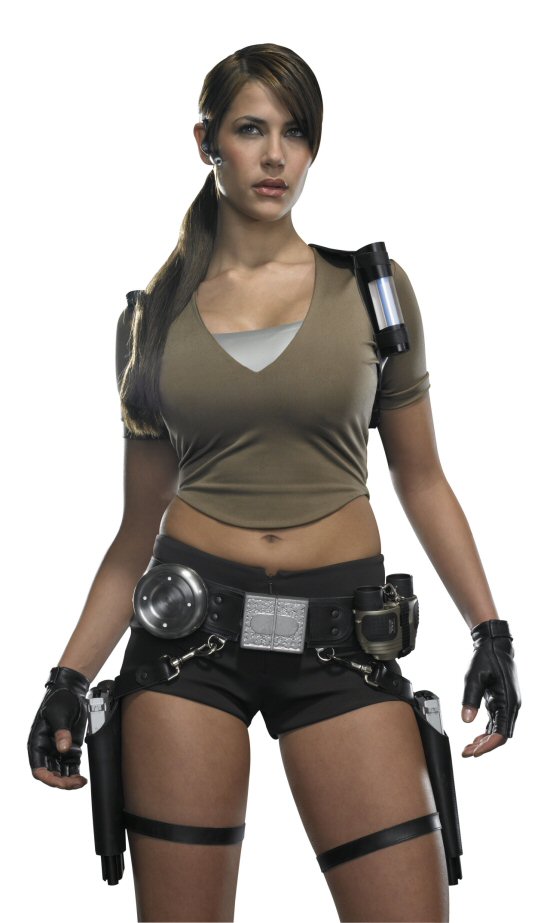 Click for larger image