Steam, the games focussed digital distribution and multiplayer online community, will soon be welcoming Linux users to the fold. Or so it seems; Valve, the company behind Steam, have issued no such statement. However Michael Larabel, of Linux enthusiast website Phoronix, is pretty sure of it after his visit to the Valve HQ in Washington. Phoronix, who broke the news about Steam development on Linux back in May 2010, were very happy with the confirmations and reassurances garnered in this new visit.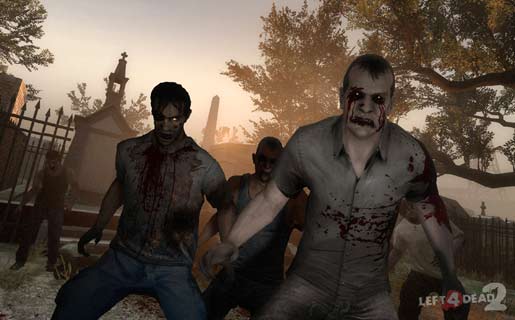 Of his interview with Gabe Newell, the Valve MD, Larabel said: "There has been developers working on the Linux support for sometime, but not until recently has Gabe Newell become personally involved with the Linux client work. In fact, his desk is currently in the current Valve Linux development camp!" Also it was his feeling that "Gabe's vision to support, embrace, and promote Linux are amazing, assuming they execute, which looks to be very high probability at this point."
Concerning timescales Larabel didn't manage to get any firm dates or target dates but said optimistically that "…their first Linux release, it is not too far out."
Suggesting that Windows 8 on the horizon is providing a new impetus for Valve to develop Steam on Linux, Larabel said of Valve MD Gabe Newell "His level of Linux interest and commitment was incredible while his negativity for Windows 8 and the future of Microsoft was stunning."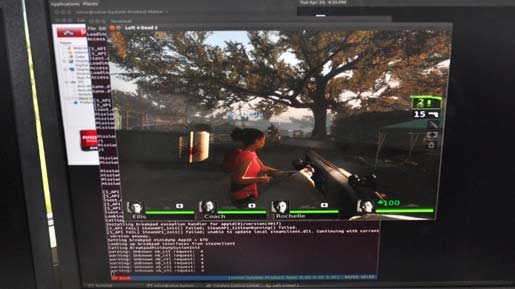 Steam running natively on Linux, Left 4 Dead 2 being played
Luckily Mr Larabel got a few photos of PCs at the Valve HQ running Left 4 Dead 2 natively on Linux because he didn't have any direct quotes in his article or a video interview with anyone at Valve. A very short video recorded at the visit has now been uploaded to YouTube, but as the most favourited comment says: "can't see a shit!" The system in the photos and video was running Ubuntu 11.10 and AMD Catalyst Linux drivers.
So for folks looking for a boost in Linux gaming this is positive news even if it is all a bit vague. The interview didn't do anything to firm up or dispel those Steam Box rumours either.