Valve has finally got into the app game by releasing a Steam Mobile application on Android and iOS devices.

The Steam Mobile app is available to download immediately, although it will only give you a chance to participate in the closed beta phase before it's unleashed in full to the public at an unknown later date.

Among the features on offer, you can browse groups and profiles, view screenshots, chat with friends and purchase titles direct from the store.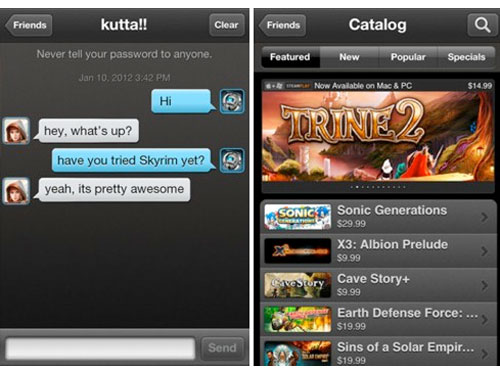 "

The Steam app comes from many direct requests from our customers,

" said Gabe Newell, co-founder and president of Valve. "

Seeing which of your friends are online and playing a game, sending quick messages, looking at screenshots for an upcoming game, or catching a sale - these are all features customers have requested. Mobile is changing way people interact, play games and consume media, and the Steam app is part of our commitment to meet customer demands and expand the service functionality of Steam to make it richer and more accessible for everyone.

"

There are also news feed to keep up with the latest gaming news and the option to snoop on friend's current activity.

Steam is currently the leading platform for the delivery and management of PC and Mac games with over 40 million accounts around the world and over 1,800 titles offered through its website.

With a marketplace brimming with great games to browse on the go, the introduction of the app is a wise move by Steam who must be salivating at the prospect of all those smartphone-owning impulse buyers!