Atari published a long blog post on Medium yesterday with lots of pictures and a discussion of the internals of the upcoming gaming machine, plus a look around the factory and some hints about the next steps in the project. However, simultaneously, over at The Register there was news that the Atari VCS project chief architect had quit after not being paid for six months. The sources of the latter story suggest that the console plans are a mess and the VCS "may never launch".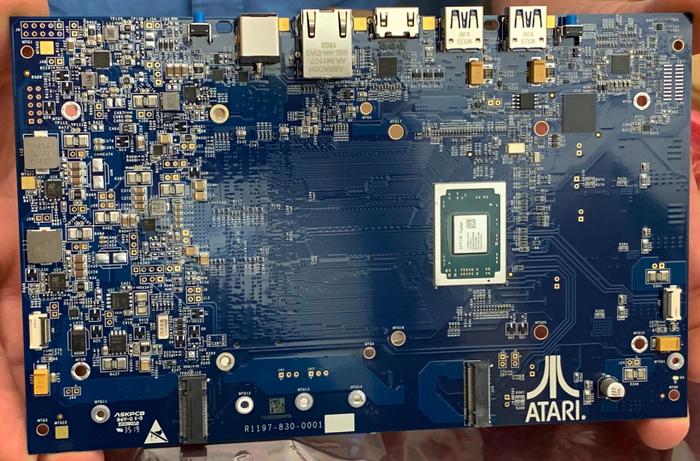 click to zoom image
Starting with the positive news, the Atari VCS pre-production board looks quite fetching. Across the top of the main picture (above) you can see two USB 3.0 ports, one HDMI port and one power connector that will all be accessible from the rear of the machine. Another obvious component is the AMD Ryzen APU, and we are told that the "large, relatively open space in the centre of the board is where the cooling solution, comprised of a blower fan and venting system, will sit".
Moving to the lower edge of the same image you can see M.2 SATA receptacles. Out of view, round the back are a pair of SODIMM DDR4 4GB RAM sticks (8GB total, upgradable). Also two front accessible USB ports are on the underside out of view.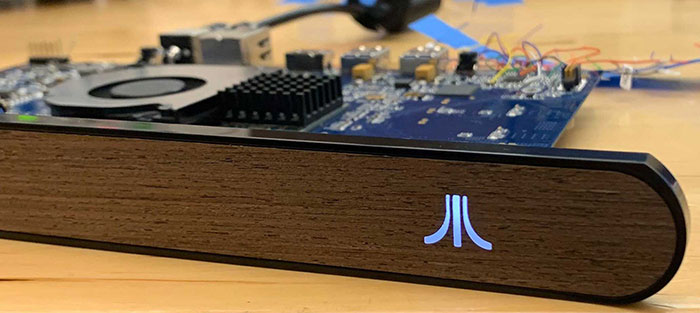 On the topic of thermals solutions, Atari says that the "AMD APU has thermal sensors and a fan controller system that monitors the APU temperature and adjusts the fan speed according to the unit's needs at a given moment". The system includes filtered vents for airflow across the PCB, rear right to rear left.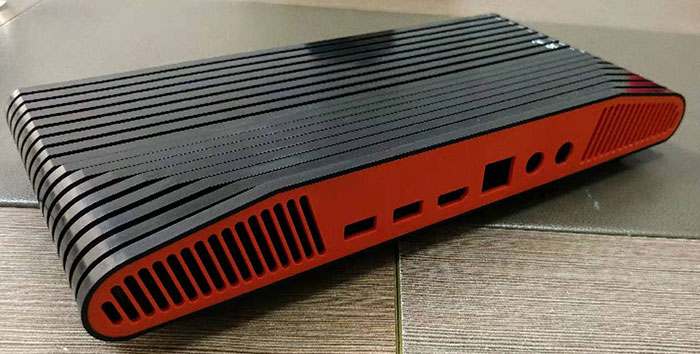 Last but certainly not least the Atari Medium post asserts that the VCS retail launch will occur in spring 2020. More precise details will be released nearer the time.
In its special exclusive report The Register has talked to Xbox and Atari system architect, Rob Wyatt, who owns design consultancy Tin Giant. Wyatt said that "As of Friday, October 4th, I have officially resigned as the architect of the Atari VCS." He explained to the Reg that his small consultancy hadn't been paid for six months and this cash flow problem has been of severe impact to the company.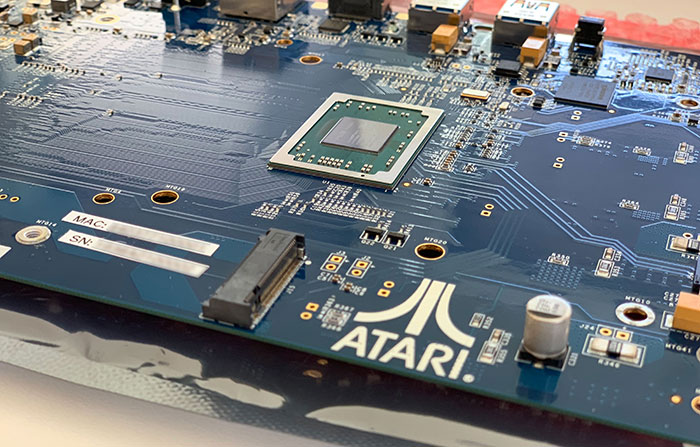 It isn't clear how the Atari VCS project can continue without Tin Giant, or why it has not been paying for its essential design services for so many months. Gamasutra received a statement from Atari which said that the project is a team effort and doesn't rely on any particular single member partner to progress. Atari insisted that it will follow its stated plan and communicate with updates over coming weeks and months by way of both technical and marketing updates.