You may or may not have noticed that Valve has just started to roll out improvements to the Steam Wishlist in your account. In brief, the update adds filtering and sorting options, and shows more relevant information such as Early Access state, review score, and 'add to cart' buttons (when available).
To decide what changed would be popular with Steam users Valve sensibly filtered through common requests seen in the Steam Community pages. From there it gleaned key pieces of info users wanted in the list plus new ways to sort and filter wishlist items.
Helping those interested in bargains and sale items, the list can now be filtered according to discount levels being applied. For example you can find games in the sale with discounts of 25, 50, or 75 per cent or more off. This is in addition to an overall price filter which lets you choose games under $5, under $10, and under your Steam Wallet balance amount.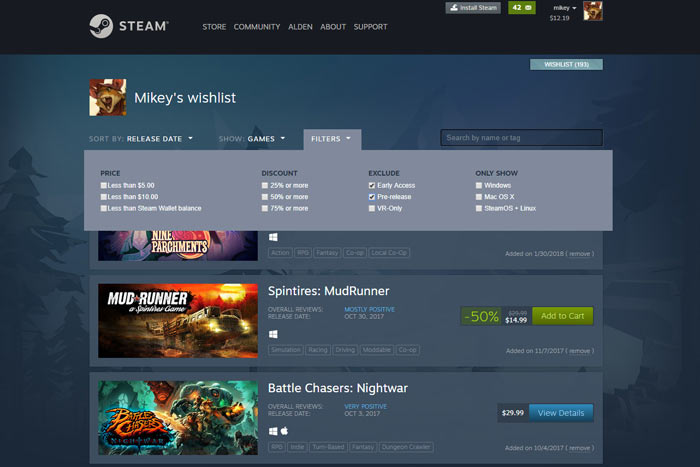 Other filters allow you to toggle early access, pre-release, and VR-only status. Game genre categories such as Action, RPG, and Strategy can also be filtered too. Overall if you have an extensive wish list these are welcome tools to maximise your spending power on the titles which appeal to you most. Filters and sort orders will auto-save and be applied on your subsequent Steam Store wishlist visit.
Most companies seek to make sales as frictionless as possible and Valve, being no exception, has added a direct purchase option to its wishlist. You won't be allowed to add some games, with multiple versions and purchase options, to the shopping cart and will instead see a button to visit the store page to refine choices further.
At the time of writing the wishlist filters and sorting improvements weren't available to me on the web or via the Steam client app unless I followed the link from the home page banner.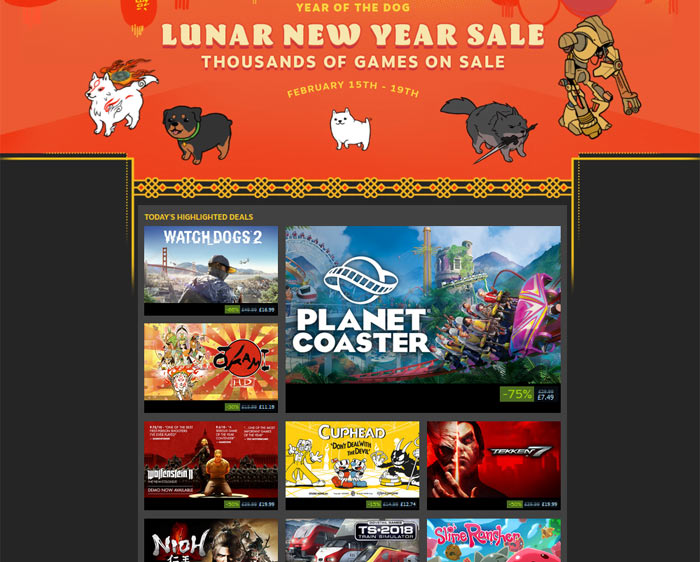 Steam Lunar New Year sale
In other Steam news, as expected, Steam kicked off its Lunar New Year Sale a few hours ago. It runs until Monday 19th Feb and celebrates the Year of the Dog.