Valve has published a number of top lists charting the Steam PC gaming success stories of 2017. Among the lists it compiled you can check through; the Top Sellers by revenue generated, the Top New Releases of 2017, the Top Selling VR titles, the Top Early Access Games, and the Most Played Games of 2017.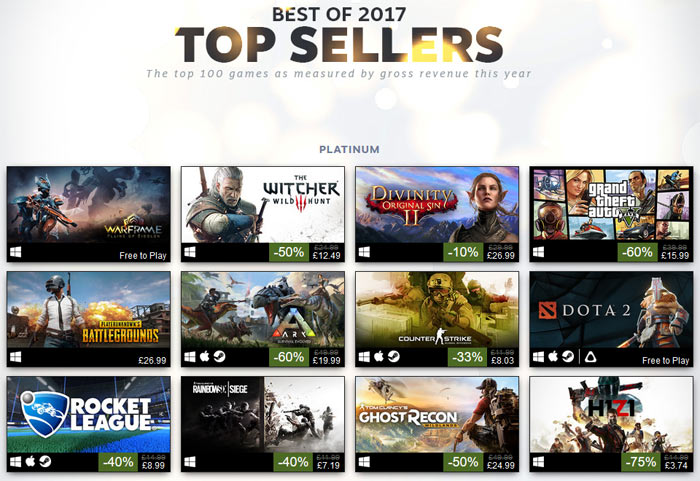 Starting with the Top Sellers by revenue in 2017, Valve has divided its top 100 games into award categories rather than a 1-100 list. For example there are 12 games in its top selling platinum category, 12 gold winners, 16 silver winners, and the rest get bronze. If you reload the Top Sellers page you will notice that the titles jiggle around, meaning they are not displayed within any particular order amongst their fellow category winning titles.
The Top Sellers by revenue 2017 platinum winners, in alphabetical order, are:
Ark: Survival Evolved
Counter Strike: Global Offensive
Divinity: Original Sin 2
DOTA 2
Ghost Recon Wildlands
GTA V
H1Z1
PlayerUnknown's Battlegrounds
Rainbow Six Siege
Rocket League
The Witcher 3: Wild Hunt
Warframe
The above list earned the most revenue during 2017 via game sales, in-game transactions, and DLC sales - hence the placement of several free-to-play titles.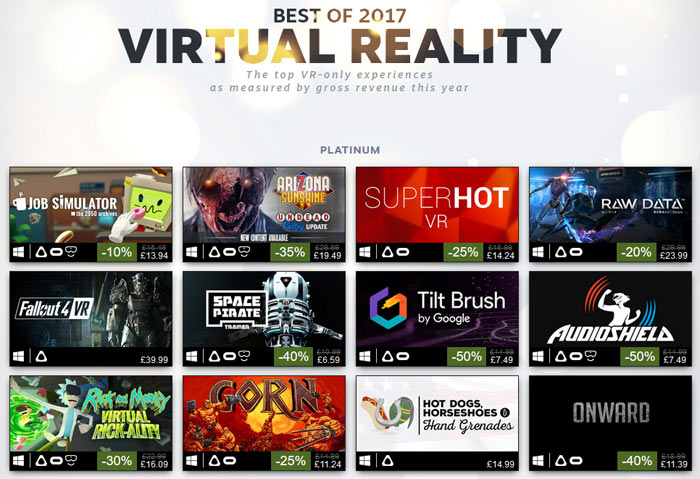 If you head on over to the Top New Releases of 2017 you will see that Valve used another approach for these listings; bundles of 2017 vintage games listed by month of release but in no other particular order. Moving on to the Best of 2017 VR games, Valve again opts for the platinum, gold, silver, bronze groupings. Valve noted that over 1000 new VR titles were launched in 2017.
Top Early Access games included titles like PlayerUnknown's Battlegrounds, Oxygen Not Included, Northgard, Dead Cells, and Blackwake. Meanwhile the top played games of 2017 compares interestingly to those that rake in the most revenue. For this chart Valve included 107 games; with the top games having a consistent >100K simultaneous players, and the entry level category with >15K but <25K simultaneous players (and two groupings between these two extremes).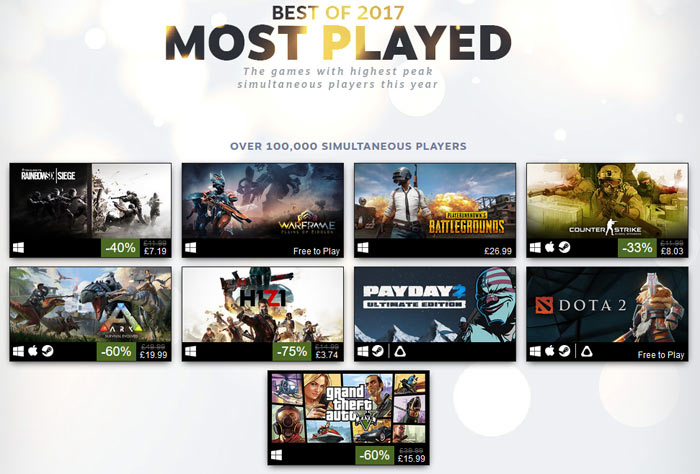 As a reminder, the Steam Winter Sale continues until 4th January at 6pm GMT (with many of the above named titles discounted), and voting in the Steam Awards continues.