Yesterday, as had been promised, the consumer version of the Oculus Rift VR headset was revealed. At a launch event in San Francisco Oculus CEO Brendan Iribe reminded us that the headset would go on sale in Q1 2016.
The hardware
The headset is said to feature an advanced ergonomic design that is both balanced and stable. Once you have fitted it, adjusting the straps for the first time, it is as easy as "as slipping on a baseball cap," to put it back on, says Oculus. Precise, low latency 360-degree orientation and position tracking of the headset/wearer are provided by the Oculus IR LED constellation tracking system.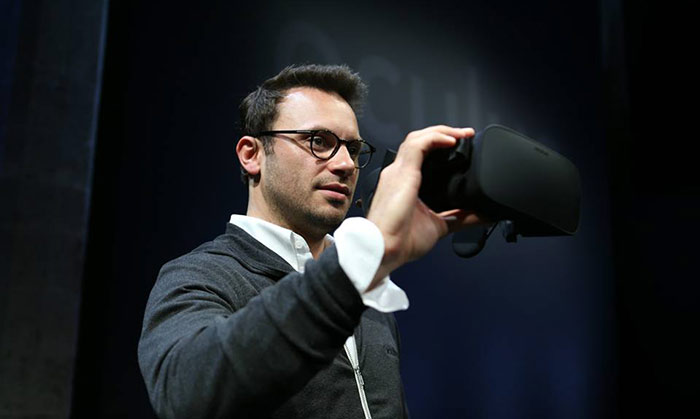 Inside, the custom twin AMOLED displays, with low-persistence, offer "incredible visual clarity," for your VR experiences. The lenses in the unit are adjusted for the most comfortable visual experience with a special mechanism and users can wear most designs of glasses inside the headset.
For your audio thrills the Oculus Rift VR headset features an integrated VR audio system "designed to convince your ears that you're truly there," says Oculus. If you own your own headphones and would prefer to use them the supplied integrated set are detachable.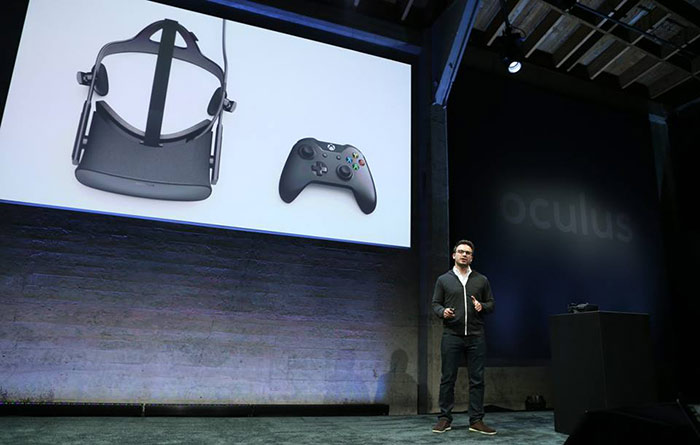 Xbox One controller and Oculus Touch
Oculus has decided to choose the Microsoft wireless Xbox One controller to include with every consumer headset. It said that it is one of the best gamepads available, thanks to its versatility and robustness. However for new kinds of VR experiences Oculus has developed the Oculus Touch.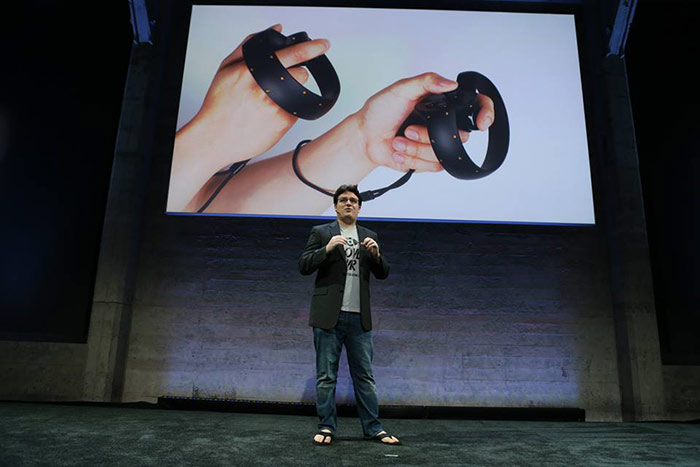 The Oculus Touch system comprises of a pair of tracked controllers that deliver hand presence plus haptic feedback. At yesterday's event we saw the above 'Half Moon' controllers, mirror images of each other. Each includes an analogue thumbstick, two buttons, and an analogue trigger plus a virtual trigger to squeeze with your trigger finger. These wireless controllers also include positioning and other sensors to detect subtle movements and gestures such as pointing and waving. They are also tracked by the constellation tracking system.
From reading the Oculus blog the 'Half Moon' Oculus Touch system appears to be an optional extra as it will be "available for pre-order around the same time as the Rift".
Games
Oculus said that it would have a number of playable games ready for E3 and five new VR demos for users to run though. Much more information about games and applications is promised for next week.
To help foster innovative independent development for the Rift Oculus announced a new $10,000,000 accelerating and supporting program.
The Oculus Rift VR games coming to E3
Pricing of the consumer version of the Oculus Rift VR headset wasn't brought up at yesterday's event. Previously it has been indicated by the company that a headset and a PC, capable of providing the muscle for smooth Oculus experiences, would cost about $1,500 or less in combination.