The second generation Oculus Rift headsets are pretty hard to get hold of but, as usual, that hasn't stopped the guys over at iFixit acquiring one and tearing it down to its components for all to see. This latest VR headset looks highly reliant on Samsung technology - it was rather surprising to see a full Galaxy Note 3 front panel and screen assembly revealed from within these goggles. The DK2 also fared well in repairability, scoring 9 out of 10.

New and old versions
As you may already know these Oculus DK2 headsets are meant for developers (DK2 = Developer Kit 2). Whilst no general availability date has been set this project is of great interest to computer enthusiasts and 3D gamers due to its sheer potential and the teases of VR possibilities we have seen so far. Of course Facebook has seen this potential and invested big in the idea too. We've heard that when the headset does become generally available it will be priced keenly to penetrate the market and at the moment it does seem a pretty good deal, considering the components, at US$350.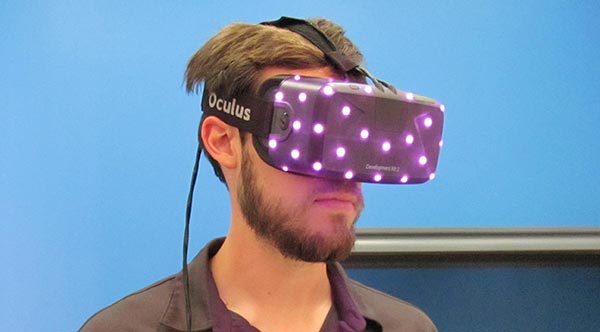 The IR positional light dots
Key teardown findings:
Everything is held together using standard Philips screws and plastic clips
The new Oculus features a full display unit lifted straight off the Samsung Galaxy Note 3 including the faceplate and holes where the buttons and speakers would go
A new motherboard design also contains the sensors including accelerometer, gyroscope, and magnetometer with an update rate of 1000 Hz. It eliminates the need for an external control box
The headset is covered in 40 IR light point 'polka dots' as the special IR enhanced photo above shows
Interchangeable lenses are easy to erm.. interchange if you like/need
A new cable hub combines USB 2.0, HDMI, DC power (optional), and a Sync cable for the positional tracker
A new external positional IR camera unit was the hardest thing to disassemble and it can't be substituted for just any old webcam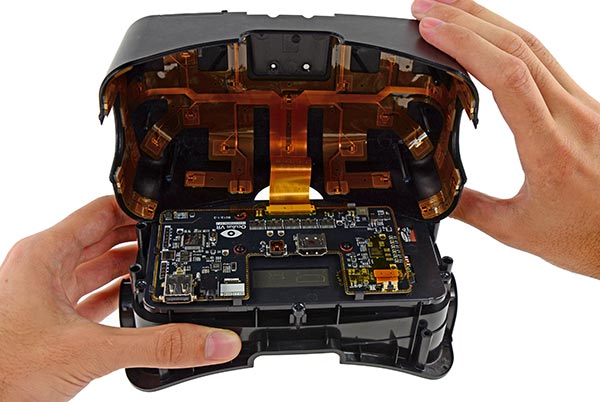 Prying it open
So we can see good evidence of the Samsung/Oculus partnership in this new headset and it's good to see the reusing of a major mass produced component if it fits the bill - like the Note 3 display. TechCrunch notes that the DK2 display is said to refresh at 75Hz while the Note 3 retail phablet display runs at 60Hz.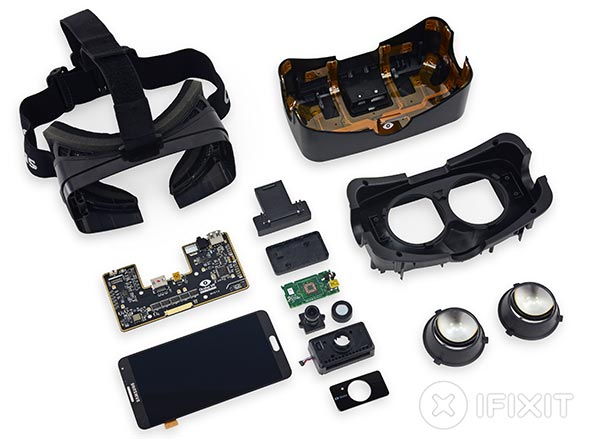 With the major smartphone component revelation perhaps Samsung's own Galaxy packing VR headset and Google's Android smartphone powered Cardboard are going to offer much more than mere geek distractions.