According to Norwegian site TUTV (via Geek), the Norwegian Armed Forces is currently testing VR headset Oculus Rift with tank drivers as a new solution to give operators a better view of the battlefield surroundings.
The headset is said to work with four separate video feeds from cameras located around the sides of the tank. The Oculus Rift headset receives the images through a PC, giving the driver a 360 degrees view around the vehicle. The effects was described as similar to sitting in a transparent vehicle.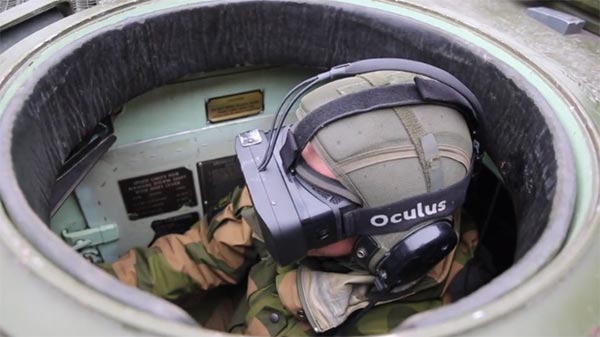 In the video showing the headset in action, a driver described the experience as similar to playing EA's Battlefield video game. The overall cost for implementing the Oculus Rift is also said to be significantly cheaper than military cameras. The demo unit cost around $2,000 while a conventional military camera system could easily cost 50 times that amount.
"Normally you would be more or less blind, because there is armour all around you," Combat Lab major Ola Petter Odden said. "With this system, you can see just as well if you were seeing out the hatch. It's more strenuous for the eyes, since it's a synthetic picture, so it will used when you think you could be shot at."
The headset-camera combination is obviously not perfect for real battlefield use just yet, with drawbacks such as user motion sickness problems and protecting the cameras that could easily be damaged/obstructed in the field. But with the army continuing its testing with the Rift, the combination sure has the potential to be a solution for improved operation and smarter combat.
Oculus hits back at ZeniMax accusation
We've seen an update on ZeniMax's claims of the right to the intellectual property which powers the Oculus Rift. Oculus VR has made the following statement, hitting back forcefully against the accusation of any IP theft:
There is not a line of Zenimax code or any of its technology in any Oculus products.
John Carmack did not take any intellectual property from Zenimax.
Zenimax has misstated the purposes and language of the Zenimax non-disclosure agreement that Palmer Luckey signed.
A key reason that John permanently left Zenimax in August of 2013 was that Zenimax prevented John from working on VR, and stopped investing in VR games across the company.
Zenimax cancelled VR support for Doom 3 BFG when Oculus refused Zenimax's demands for a non-dilutable equity stake in Oculus.
Zenimax did not pursue claims against Oculus for IP or technology, Zenimax has never contributed any IP or technology to Oculus, and only after the Facebook deal was announced has Zenimax now made these claims through its lawyers.
Despite the fact that the full source code for the Oculus SDK is available online (developer.oculusvr.com), Zenimax has never identified any 'stolen' code or technology.