NVIDIA revealed a new handheld game console last night, to be sold under its own branding; the NVIDIA Project Shield. The portable console looks like an oversized console control pad, however a lid flips up on the top to reveal a 5-inch HD ready screen. The new handheld is powered by NVIDIA's new Tegra 4 SoC which is based upon ARM's latest Cortex-A15 design complemented by 72 GPU cores. The new portable gaming device runs "pure Android" and has standard ports and connectors including a MicroSD card slot.
PC games too
An important extra feature of the NVIDIA Project Shield console is that it's not just designed for playing Android games. NVIDIA explains: "as a wireless receiver and controller, it can stream games from a PC powered by NVIDIA® GeForce® GTX GPUs, accessing titles on its STEAM game library from anywhere in the home." You'll need a GTX 600 series card in your PC to use this games streaming facility because it uses the Video Codec Engine video encoder built in to these graphics cards. Pocket-Lint went so far as saying "Think of it like a Wii U for the PC gamer, making it finally possible to easily hook your PC up to your big screen TV in the living room."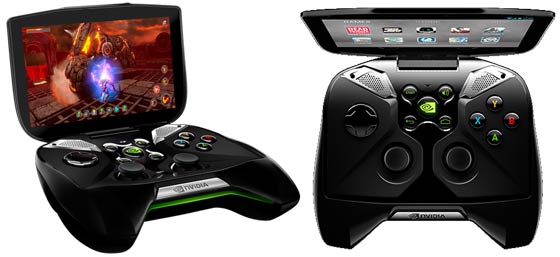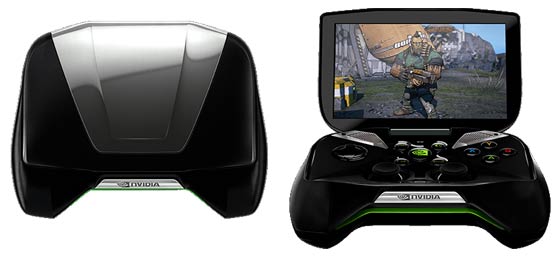 Look at the pictures above and you can come up with your own ideas about the influences that have gone into the design of Project Shield. NVIDIA calls its arrangement of buttons and joysticks a "full-sized console-grade game controller." With the weight of the screen furthest from the player it looks like NVIDIA have tried to create handling balance by placing the twin analogue control sticks near the front.
NVIDIA Project Shield specs
| | |
| --- | --- |
| CPU | NVIDIA Tegra 4 (4+1 Cortex-A15) |
| GPU | NVIDIA Tegra 4 (72 GPU cores) |
| Display | 5-inch 1280x720 pixels "retinal" touchscreen |
| OS | Android Jelly Bean, TegraZone |
| Controller | Ergonomically designed for comfort and precision, including 4 shoulder buttons you can't see in the pictures above. |
| Sound | Bass reflex tuned port speaker system |
| Ports/Connectors | Micro-USB, Micro-HDMI (supports 4K), MicroSD, 3.5mm audio out, Wi-Fi |
| Battery | 38Wh |
There was no pricing or availability mentioned for this new handheld Android console in the press release but Anandtech reports that "Shield will launch in Q2 at a price competitive with other mobile gaming systems and tablets." Which means it will cost about US$200, hopefully less. There are quite a few Android powered consoles in the works including the OUYA ($99) and highly portable GameStick ($79).