In the latest issue of PSM3 (via CVG), Bethesda designer Todd Howard argues that $60 is "a lot of money for entertainment" - but insists that the developer's upcoming The Elder Scrolls V: Skyrim is one title that truly delivers, making sure gamers get their money's worth.
"I've thought for a long time that games are too expensive," claims Howard, before adding "I don't put us in that category of course - for what we give you, for sixty bucks or however many 'quid' it is."
"That's a lot of money for entertainment, so I think the good news is that in certain markets - PC, iPhone, mobile - we can see prices coming down."
"But I do think industry-wide we would benefit from more games out at $19 or $29. I would try more games. Because I'm not going to try a game for $60. It's a tough decision."
"That's why people read reviews and previews, because it's not only a money decision, it's a time-investment decision. It's not like going to a movie."
Mr Howard's comments will be encouraging to consumers who're struggling to keep up with the costs of gaming, but it seems as though Bethesda is willing to continue attaching premium price tags to its own products. Earlier this week, the company announced a Skyrim Collector's Edition that will fetch a staggering $150 (£130) at retail. In addition to the $60 (£40) game, the Collector's Edition bundle will include a model of the game's Alduin the World Eater dragon, a 200-page art book and a "making-of" DVD.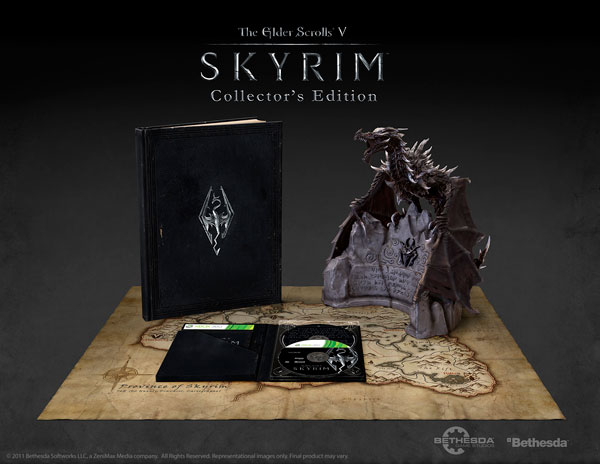 All irony aside, Bethesda isn't alone in purportedly seeking lower price points. In recent weeks, Namco Bandai vice president Olivier Comte has said: "I am convinced that in the future we must change the price of video games - they're too expensive for the audience. With the cost of development and the retail margins, £40 is a fair price [to us], but for the consumer it is too much."
"From September to December there are three new blockbusters every week, and consumers just can't afford to buy all that."
"A good price of a game should be around £20 – but for this price we can't make a ten to 15-hour adventure. So for £20 we should offer consumers four to five hours of game play, then after that we can make additional money with DLC."
Is the cost of the industry's blockbuster titles affecting your purchasing decisions? Let us know in the HEXUS.community forums.