HEXUS has been covering news about the Smach handheld PC 'console' since mid 2015. In the fast-moving world of tech the concept of the Smach Z has remained the same, as has its proposed form factor and other aspects of the system - but its internals have been significantly boosted as supporting technologies have been refined and improved.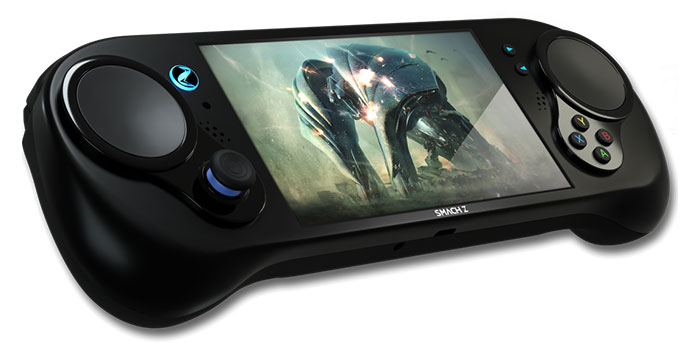 Back in Feb 2018 HEXUS reported that the Smach Z designers had decided to use the new AMD Ryzen Embedded V1000 processors as the foundation for their upcoming portables. As recently as the E3 2019 (in June) the Smach Z makers were showcasing a trio of machine options - standard, Pro and Ultra - all based upon the Ryzen Embedded V1605B SoC with AMD Radeon Vega 8 graphics but with varying dollops of RAM and built-in storage. These models are currently up for pre-order with low reservation fees (cancel at any time until shipment).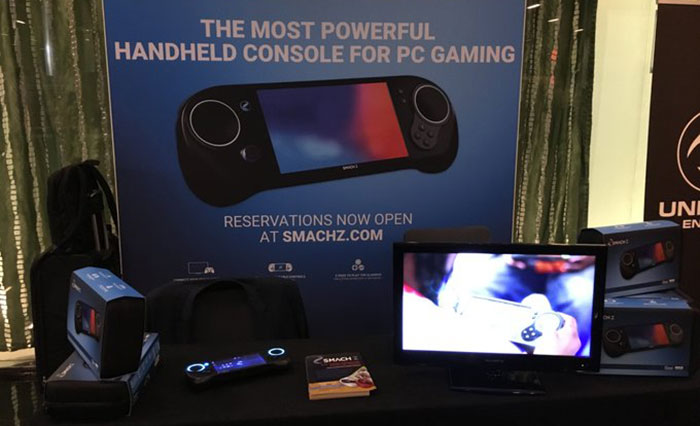 Now the company behind the handheld has confirmed that there will be a more powerful processor option. Liliputing reports that Smach is working in "closer collaboration with the AMD team" to make the more powerful version of the handheld possible.
Ryzen Embedded V1605: 12-25 watt TDP, 4C/8T, 2GHz base freq / 3.6GHz Turbo, 1.1GHz Radeon Vega 8 GPU, DDR4-2400 RAM
Ryzen Embedded V1807B: 35-45 watt TDP, 4C/8T, 3.35GHz base freq, 3.8GHz Turbo, 1.3GHz Radeon Vega 11 GPU, DDDR4-3200 RAM
Above, and below, you can see the outline specs of the Ryzen Embedded V1605 and more powerful V1807B. Though the extra CPU clockspeed and three more CUs in the GPU of the beefier SoC will be welcome for raw performance, there is a concern that the battery life will be impacted significantly.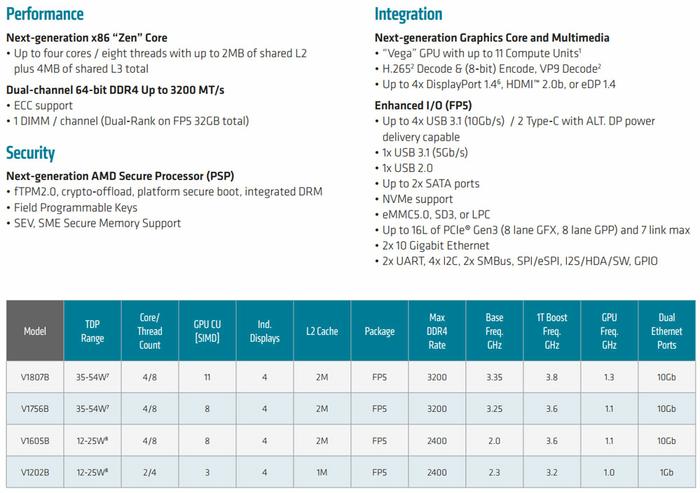 click to zoom image
The official spec of the Ryzen Embedded V1807B shows it with a TDP in the range of 35-45 watts. However, reports suggest that the version of the chip in the Smach Z has been tuned to run at 15W, just like the V1605B model, and that performance at Gamescom using this was "very good" in games such as Doom (2016), Rocket League and Cuphead.
Shipments of Smach Z units to customers are scheduled to begin before 2019 is out. If you are interested in the more powerful version with the Ryzen Embedded V1807B SoC there is no mention of it yet on the official site or pre-order pages. Thus the launch schedule for the V1807B is even less well defined and we don't know how much extra users will be asked to pay for these more powerful handhelds.