About a month ago HEXUS reported upon information and imagery leaks which were purported to show a new disc-less console from Microsoft called the Xbox One S All Digital. Now another source has chipped in with what it claims are further actual product shots, hardware details, pricing and launch dates.
WinFuture.de images look very much like the renders we saw last month; however its packaging shots include full descriptive text rather than placeholder type and text boxes. On the front of the box image shared you can see the name of the console confirmed as 'Xbox One S All Digital'. Then you see the phrase 'Disc-Free Gaming' in various European languages.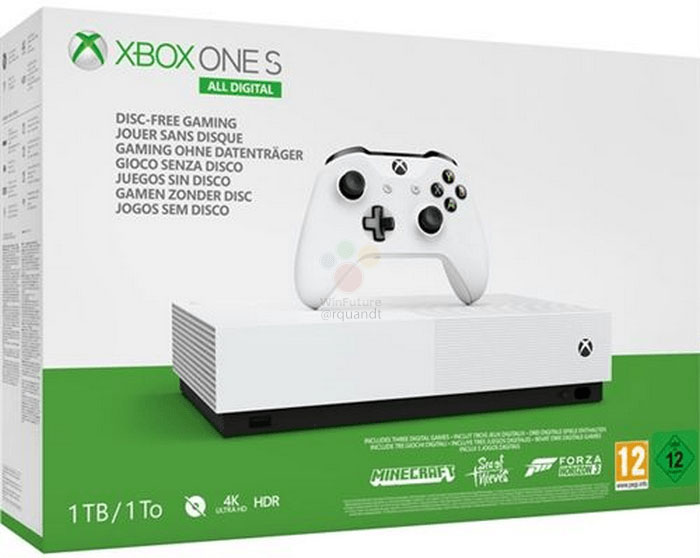 On the bottom border of the box we see that this is a 1TB model which can still play 4K and HDR entertainment but another icon reminds the buyer that there is no disc playing on this console. This packaging is for an Xbox One S All Digital bundled with Minecraft, Sea of Thieves, and Forza Horizon 3. More games can be purchased via the Microsoft Store. Furthermore, a Game Pass "gives users access to an ever-expanding library of over 100 games that can be freely downloaded thanks to a paid monthly subscription, as on the other Xbox models," notes WinFuture. A single controller is in the pack.

According to the source, Microsoft will launch the Xbox One S All Digital tomorrow, at a special event. It is expected that pre-orders will be opened up shortly after the launch with availability starting from 7th May in Europe.
On the topic of pricing, optimistic projections appear to have been dashed. WinFuture quotes an MSP of €229.99 in Europe which equates to £199.99 in the UK. I've had a quick look around at current Xbox One S console pricing in the UK and notice that the 1TB console with one controller costs £179, and multiple game bundles are available around the £200 mark. Hence, the launch price for the disc-less version doesn't look very persuasive for consumers.