The Nintendo Switch hybrid console is now on retailer shelves and available online in various parts of the world, including the UK. Any home user can buy and admire the new console 'in the flesh' for its slick industrial design. However, most people won't want to disassemble a perfectly functioning machine to fix it - if it had some functional issues or obvious faults, for example, you would simply swap it at the store you bought it. Nevertheless, appealing to the curious, the guys over at iFixit have taken the new console to pieces and peered within for you.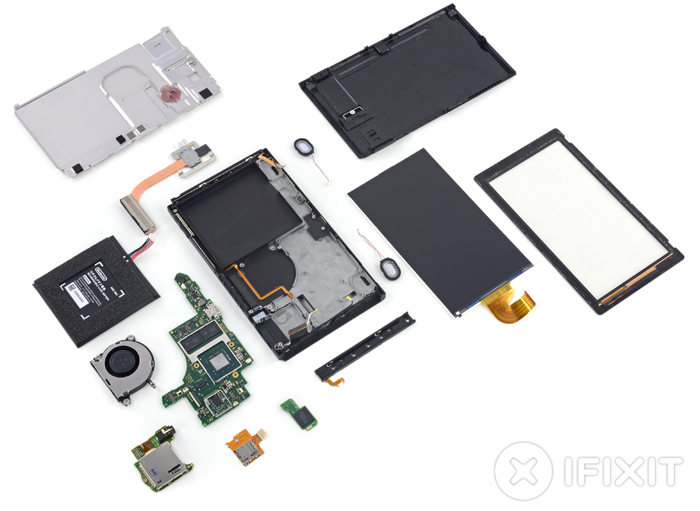 Inside the iFixit team found the following key components:
Nvidia ODNX02-A2 customized Tegra processor
Built-in 6.2-inch multi-touch LCD screen with 1280 × 720 resolution (capable of 1920 × 1080 output on an external display via HDMI)
32GB of internal storage (up to 2TB additional storage via microSDHC or microSDXC card)
802.11 a/b/g/n/ac Wi-Fi, Bluetooth 4.1, USB Type-C charge port, and 3.5mm audio jack on the console—plus three standard USB ports on the Switch Dock
Stereo speakers
Rechargeable lithium-ion battery capable of 2.5 - 6.5 hours play time
Detachable wireless Joy-Cons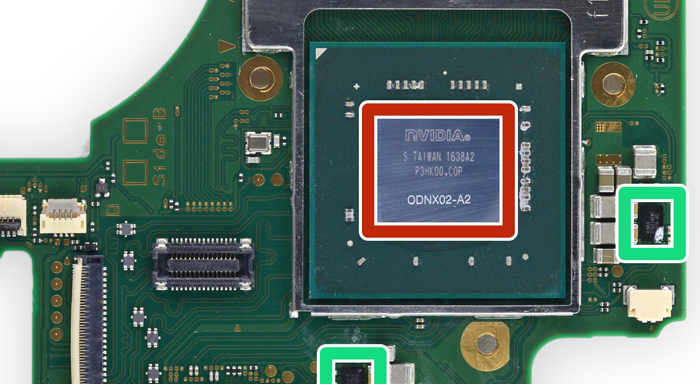 You will need tools such as tri-point screwdrivers to get into the Switch. Interestingly the inner workings are covered by a large metal plate which gives both structural and cooling support, according to iFixit. That's not the only cooling component, as there is an L shaped copper heatpipe and a small processor cooling fan. The 16Wh battery isn't said to be user replaceable but will be changeable via a paid replacement program, not yet needed at this point in the console's history. iFixit's tech mechanics didn't find it too difficult to remove the battery, ready for replacement.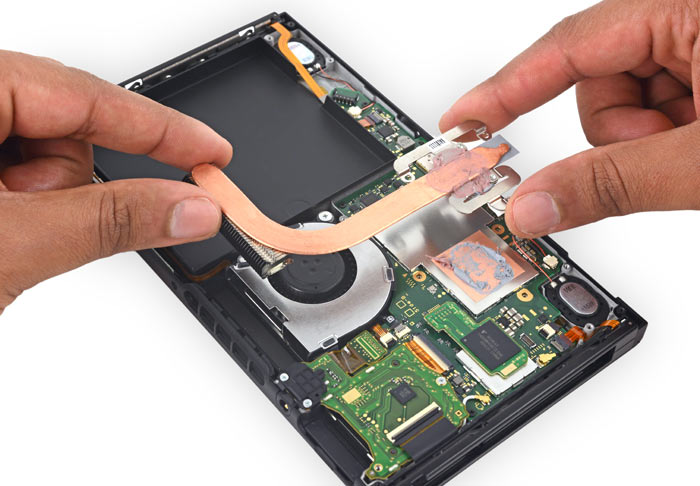 Overall iFixit gave the Nintendo Switch a respectable 8 out of 10 score for reparability. The most tricky future repairs will be those which require a screen and/or digitiser (non-fused) replacement. However, other common repairs won't be complex as long as you have a steady hand, patience, and a set of tri-point screwdrivers.
Can I make game save backups or transfers? No.
In other Nintendo Switch news today, it has been revealed that save game data can't be transferred to portable storage, such as SD cards, or to other Switch consoles. As a Nintendo Account latches on to one Switch at a time, this means that the long labour put into game progress must be continued on the same console - or you simply have to re-start anew. That could be a major disaster for some folk if their console develops a fault or is impacted by some irreparable damage.
Nintendo hinted that saves might be transferrable in the future as it admitted to Kotaku that the restriction does indeed apply "at this time".