Perhaps the currently running Nvidia SHIELD price cut promotion is a sign that a new handheld gaming device from the green team is on the way? Well it certainly looks that way, as a newly discovered AnTuTu benchmark entry appears to list a SHIELD test unit that is powered by an Nvidia Tegra K1 and packs 4GB of RAM.
Companies often surreptitiously offer us 'bargain' prices of current products when there's a new model on the way. It helps run down stocks left of the old device without resorting to even more drastic cuts which would be required if customers knew what was around the corner. It looks like Nvidia is following that pre-v2-launch price cut strategy with its SHIELD console.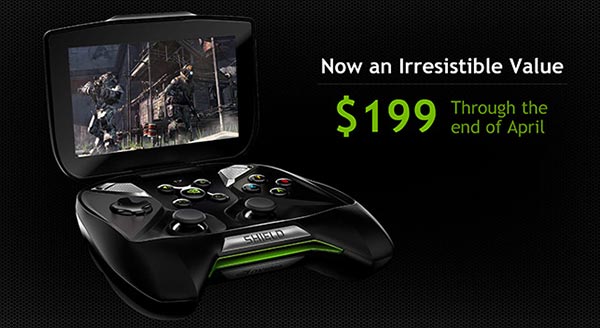 A new AnTuTu benchmark lists an 'Nvidia test model (SHIELD)'. If this data is real and not faked in some way then it looks like we've got the basic specs of the new Nvidia handheld here. As mentioned in the intro, this looks like a way for Nvidia to debut the Tegra K1 and show off its capabilities in its own consumer hardware product. The K1 chip here is a quad-core processor which runs between the speeds of 51MHz and 2524MHz, as expected the graphics section is listed as 'Kepler graphics' but someone somewhere spelt GeForce wrong - 'Gefroce' - which is a bit suspicious.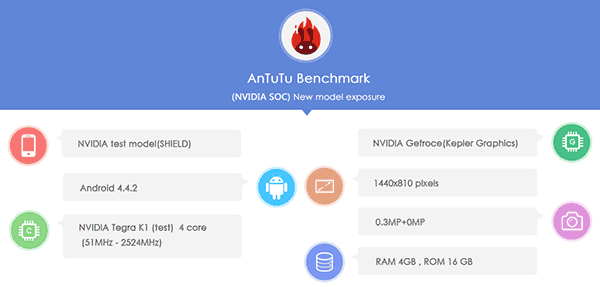 The screen res is listed as 1440 x 810 pixels – this is the usual way AnTuTu reports this information – the screen will actually be a 1440 x 900 pixel unit minus the Android software navigation button bottom portion which is 90 pixels high. Other pixelly hardware included in the new handheld includes a 0.3MP camera. This is something that Nvidia skipped completely in the first model but has obviously made it through cost-benefit analysis this time around.
The new SHIELD also appears to be equipped with 4GB of RAM and 16GB of storage. However, as a 32-bit OS, the Android 4.4.2 system which is listed as being installed on this console, won't be able to address all of that RAM.
We are left with some key questions that benchmarks such as AnTuTu don't reveal: what will be the actual physical form and screen size and of course how will the new console be priced? Hopefully we will get answers to these and other questions soon. Looking at timescales, it would be reasonable to expect a new SHIELD handheld to be revealed at the E3 2014 show in June.