I flick between my iPad, notebook and desktop PC on a regular basis. Simple browsing is done on the 40m-selling device from Apple, some editorial is written on the notebook, especially at events, and the desktop PC for reviews when only a couple of 24in displays will do. In short, I genuinely make use of three devices.
ASUS has looked at blurring the line between tablets and notebooks with the Transformer series of Eee Pads. The latest incarnation, the Prime, does an admirable job of fusing the two together, with the keyboard working particularly well in 'notebook' mode. Here is one area in which ASUS has an advantage over Apple.
But in addition to the official keyboard dock from Apple, priced at £56, there are a whole host of companies that produce aftermarket keyboard/sleeves for the two iPads. One such company is Urban Factory, a French outfit who has been steadily expanding its product line-up in 2011. We took in the firm's iPad (2) Keyboard Sleeve for a spin.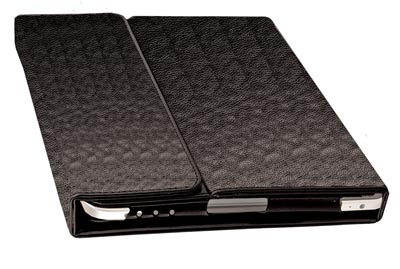 The only outward indication that this isn't merely another iPad folio rests with the thickness and weight of the imitation leather case. Tipping the scales at 682g (550g claimed) and 32mm thick, it doubles a first-generation iPad's weight.
Keyboard
Open it up and the innards come into view. The iPad-wide silicone keyboard connects to the device via Bluetooth - pairing is simply a case of going into the tablet's settings, activating Bluetooth, inputting a pairing code, and clicking on connect - and that's all there's to it. The spill-resistant keyboard has a built-in battery that's charged via a standard micro-USB cable and, making sure juice isn't wasted, there's an on/off switch on the far side. I had no problem in using the keyboard for days on end, albeit in 20-minute sessions, without recourse to charging.
The premise here is to make typing longer emails easier and work more productive when compared to the virtual on-screen keyboard on the iPad itself. Understanding that silicone is used, the keyboard feels somewhat mushy on first use, especially when put next to a quality notebook's, but the feeling becomes more natural over time.
Function keys replicate many of the features you'd commonly use on the iPad and the keyboard becomes intuitive to use after a few days. I'm a touch typist who makes use of the ridges on the F and J keys, which are present here, and after getting used to just how the keys respond, found that typing a 200-word piece was about 20 per cent faster on the Urban Factory keyboard than on the iPad's virtual on-screen version. However, when asking three single-digit typists to compare keyboards on a comfort and speed level, the results were split.
The clash between a touchscreen device and external keyboard is most acute when going through everyday tasks. For example, if you're browsing the web using the iPad's Safari app, there's no way to access the address bar without reaching out and touching it, and the keyboard's up and down arrow keys don't allow you to scroll through a page.
The keyboard has a dedicated search button, but use it to find content and you're left unable to select the results without using the touchscreen. Similarly, pressing the home button returns you to your home screen as expected, but there's then no way to then load another app without... you guessed it, reaching out for the touchscreen. This is down to how Apple has designed the user interface rather than an oversight on Urban Factory's part.
Case
The iPad-holding portion of the sleeve accepts both iPad 1 and iPad 2 tablets, with the necessary camera holes for the newer model. Look again at the top picture and the right-hand side is actually a flap that turns into a multiple-angle stand when the tablet is in the inner sleeve, which can be rotated to a vertical viewpoint if you so desire. The rotation mechanism works via a snap fastener and the inner sleeve can be pulled away from the folio, creating a thinner, lighter case that's good for everyday use.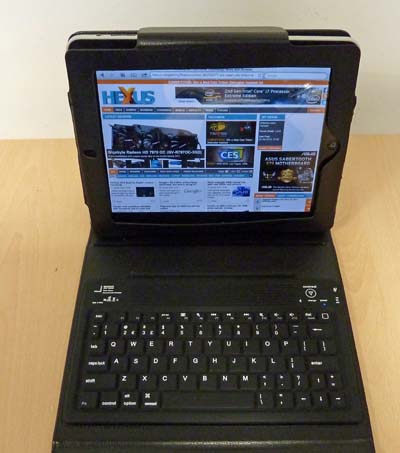 The large palm rest area is good when sitting at a table or desk with plenty of spare space but can be awkward when placed on a lap. This front section needs to be tucked back under the folio for the keyboard to work well in this position. Really, the iPad (2) wasn't designed to be enclosed in larger, keyboard-totin' folios, and while Urban Factory has gone about designing such a folio with some nice features, the overall package feels like too much of a compromise when you factor in the lack of benefit that an external keyboard provides for most folk using Apple's tablets, though, being balanced, I see merit for the road warrior who needs to type out longer emails on a regular basis.
Keyboard folios for tablets are much like Marmite: you either love them or loathe them. The Urban Factory Keyboard Sleeve, priced at £89.99, does exactly what it promises. Whether it's value to you depends upon just how much you need to have an external keyboard for what is essentially a super-portable device. And if you don't need an all-in-one case there are significantly cheaper options out there.
The Good
Solid build quality
Inner sleeve can be removed
Keyboard provides bonus for touch typists
The Bad
Increases travel weight to 1.3kg - as much as a decent netbook
Keyboard may provide no speed-up for non-touch typists
Bulky, but that is the nature of the beast

HEXUS Rating

Urban Factory iPad (2) Keyboard Sleeve
HEXUS Where2Buy
The Urban Factory iPad (2) Keyboard Sleeve is available from Amazon.co.uk.
HEXUS Right2Reply
At HEXUS, we invite the companies whose products we test to comment on our articles. If any company representatives for the products reviewed choose to respond, we'll publish their commentary here verbatim.