I'm a PC user at heart, but I can't deny that I've grown quite attached to my fiancée's iPad. It's a great sit-back-and-kill-some-time gadget, and it's arguably the best 10in content-consumption device currently on the market.
As the other half quite often puts it; "it does everything I need". But does it? Sure, the iPad's great if you're just checking Facebook, reading the news and slinging some miffed-off birds, but if you draw yourself away from all those apps and attempt to be productive, you may find the touch-screen interface to be an inhibiting factor.
That's precisely why I still carry both my BlackBerry and my notebook when I travel: I can't make do without a proper keyboard. But what happens when you add a proper keyboard to the iPad? Can the tablet then replace the notebook? To find out, I've spent a week using Logitech's aptly-titled Tablet Keyboard for iPad.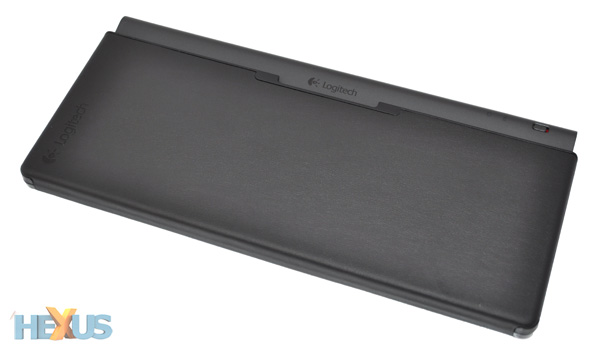 The slim, portable accessory fetches a lofty £50 at retail and claims to "add a touch of convenience to all the places you use your tablet". We can see the logic, but there's an immediate sense of inconvenience; the keyboard, in its smart leather case, tips the scales at 614g - that's more than a second-generation iPad (600g), and it goes against the portable philosophy of the tablet form factor.
If you're willing to make do with the extra bulk, Logitech has put together a visually-attractive package and the leather keyboard sleeve is more than just a token gesture. Slip it off, fold it open, lock the plastic base, and it transforms into a surprisingly sturdy stand that's adjustable to an angle that suits your needs. Better yet, it'll quite happily prop up an iPad in either portrait or landscape orientation.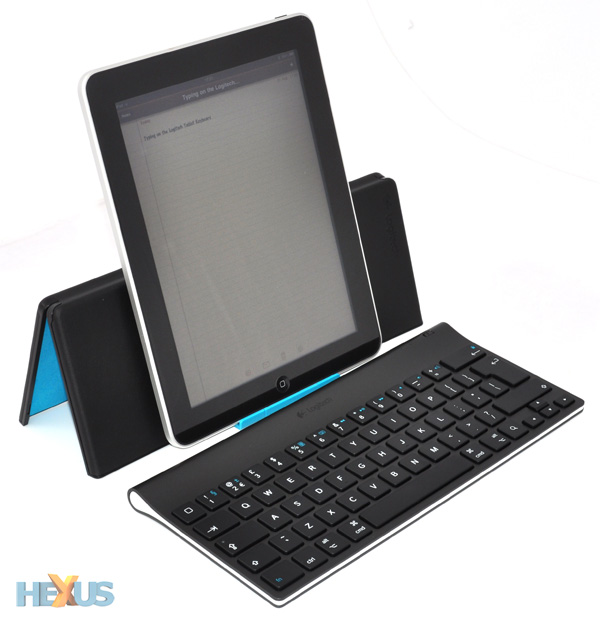 It's a shame it doesn't double as an iPad cover - ala the pricier clamcase - but it's a neat-enough solution that's quick and easy to configure. There are no wires, power is supplied by four AAA batteries, and the keyboard connects to any iOS device (yes, that includes the iPhone and iPod touch) via Bluetooth at a typical range of up to 30ft.
Setup is as easy as searching for Bluetooth devices from the iPad settings menu, choosing the Logitech keyboard, typing in an on-screen pin code and hitting enter. What's useful is that the keyboard can also be paired with most other Bluetooth devices, though there is a catch in doing so. While experimenting, we found the keyboard connected just fine to a PlayStation 3, but then realised that it remembers only one pairing - so don't expect a seamless switch between multiple devices.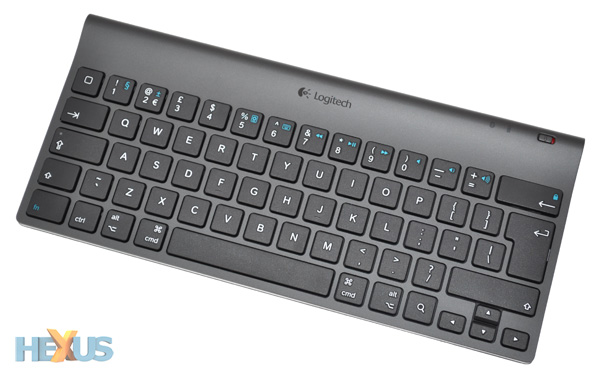 The keyboard itself is lovely-looking, and at 29cm in length it's wide enough to not feel cramped. A power switch is located along the top-right edge to help conserve battery life, and it's joined by two status LEDs; a Bluetooth indicator that'll blink green when connecting, and a battery indicator that'll flash red when you're about to run out of juice. Around the back, the keyboard sports four rubber feet and a Bluetooth connect button - but there's no flip-out stand for tilt adjustment.
During use, we experienced no visible input lag and while the flat, island-style keys offer no contour, they're surprisingly enjoyable to use. All the keys are well spaced out and their soft, quiet spring feels satisfying beneath the fingers.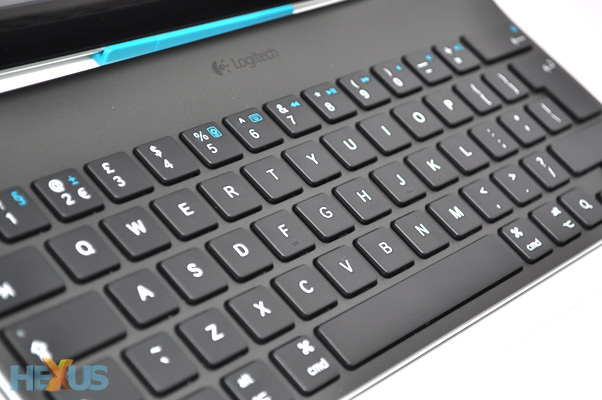 What makes Logitech's solution more attractive is a series of function keys designed specifically for the iPad. There's a dedicated Home button where you'd normally find the Escape key, and combining the function and number keys allows the user to select various multimedia shortcuts. These include display slide show, show/hide on-screen keyboard, play/pause, mute and lock.
Shortcuts for cut, copy, paste and undo are also easily accessible (cmd+x, cmd+c, cmd+v and cmd+z, respectively), but there's frustratingly little beyond that. It took us only minutes to realise that this is a keyboard trying to make its way in a decidedly touch-screen world. For example, if you're browsing the web using the iPad's Safari app, there's no way to access the address bar without reaching out and touching it, and the keyboard's up and down arrow keys don't allow you to scroll through a page.
Functions you'd expect to be there simply aren't, and the limitations are at times baffling. The keyboard has a dedicated search button, but use it to find content and you're left unable to select the results without using the touchscreen. Similarly, pressing the home button returns you to your home screen as expected, but there's then no way to then load another app without... you guessed it, reaching out for the touchscreen.
There are other frustrations, too. If Logitech's Tablet Keyboard is left on and within range, the iPad's on-screen keyboard will cease to be displayed automatically - even if you do have the tablet in your hands. Just want to quickly enter a web address or send a brief email? You'll need to find the keyboard and turn it off, or disable the iPad's Bluetooth radio.
The myriad of usability quirks has allowed us to reach an inevitable conclusion; the usefulness of the Tablet Keyboard for iPad is limited to text entry in a handful of apps. Whereas a notebook can quite easily be used without a trackpad, the iPad relies so heavily on its touchscreen interface that it makes it impossible for Logitech's Tablet Keyboard to take up a central role. It's a shame, really, as Logitech's tidy hardware is deserving of better software support.
Bottom line: if you do a lot of writing on your iPad, the Logitech Tablet Keyboard could prove to be a valuable accessory. But make no mistake, if text entry is your primary concern, the makeshift combination of iPad and keyboard is a distant second to a cheap-and-cheerful notebook.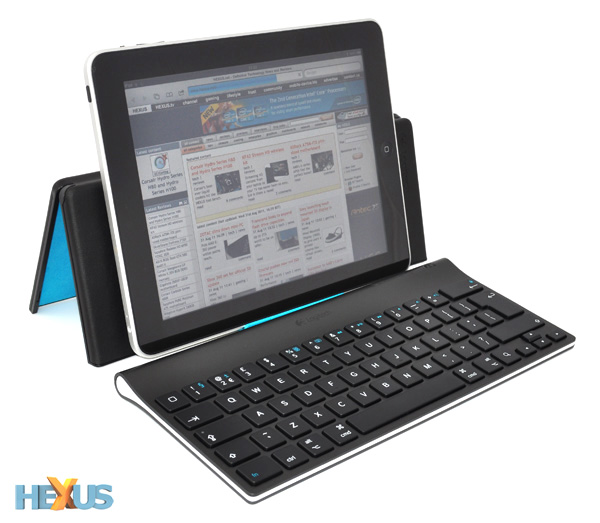 The Good
Comfortable typing action
Doubles as an iPad stand
Attractive design
Simple setup
The Bad
Limited app integration leaves you reaching for the screen
Weighs more than a second-gen iPad
Remembers only one Bluetooth device


HEXUS Rating

Logitech Tablet Keyboard for iPad
HEXUS Where2Buy
The Logitech Tablet Keyboard for iPad is available to purchase from amazon.co.uk and logitech.com.
HEXUS Right2Reply
At HEXUS, we invite the companies whose products we test to comment on our articles. If any company representatives for the products reviewed choose to respond, we'll publish their commentary here verbatim.