Logitech emailed HEXUS today to tell us about its new LIGHTSPEED PC gaming peripherals. The initial LIGHTSPEED range includes a wireless mouse and a mechanical keyboard. LIGHT SPEED is nothing to do with RGB LEDs, or the mouse sensor but the proprietary wireless technology from Logitech, designed "to deliver unparalleled speed, consistency and robustness". Logitech also announced a new gaming mousepad.
The Logitech G603 wireless gaming mouse and Logitech G613 wireless mechanical gaming keyboard utilise the aforementioned LIGHTSPEED wireless technology. Logitech's fast wireless tech is said to "deliver professional-grade wireless performance and unrivalled reliability" and, in the case of the G603, "latency that surpasses wired gaming mice". That's a bold claim to make. Both devices are said, in empirical terms, to feature a 1ms report rate. Unfortunately the dedicated LIGHTSPEED microsite set-up by Logitech hadn't materialised by the time of writing, so we can't delve further into these claims.
Logitech G603 wireless gaming mouse
As well as the new super fast wireless communications feature, the G603 boasts Logitech's latest HERO optical sensor. HERO stands for 'High Efficiency Rated Optical'. It is said to provide 10x power efficiency, important for a wireless device and said to help along the 500 hours non-stop gaming life, yet boasts precision and accuracy at 200 to 12,000 DPI with no acceleration or smoothing.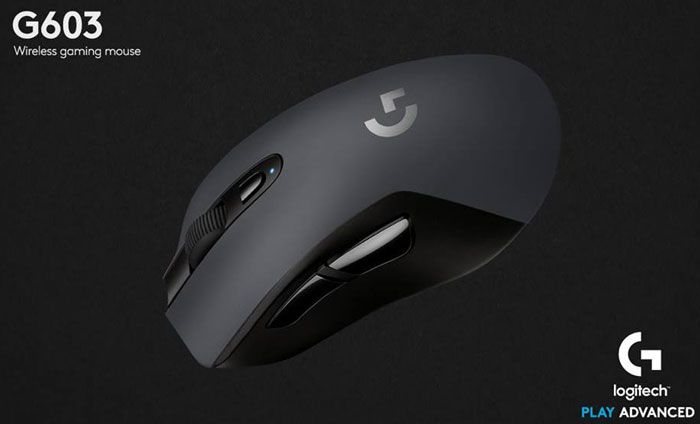 On the topic of gaming vs general use, Logitech has equipped the G603 with a hi/lo switch. It recommends the 'hi' setting for gaming with its 1ms report rate. However if using the G603 for general activities users may switch to 'lo' for an 8ms report rate and battery life extended from 500 hours to 18 months.
Other key specs of this gaming mouse are its six programmable buttons, on the fly DPI shifting, ergonomic weight and balance (you can choose one or two batteries to adjust the weight, Bluetooth connectivity options, onboard memory and compatibility with the Logitech Gaming Software. In the UK the G603 costs £69.99 including tax and postage and is available immediately.
Logitech G613 wireless mechanical gaming keyboard
The G613 keyboard is again a wireless device which connects via your choice of LIGHTSPEED wireless technology, for super fast 1 ms report rate, and /or Bluetooth for multi-host connectivity. Battery life for this device is said to be up to 18 months using 2x AA cells, depending upon device connection modes and usage.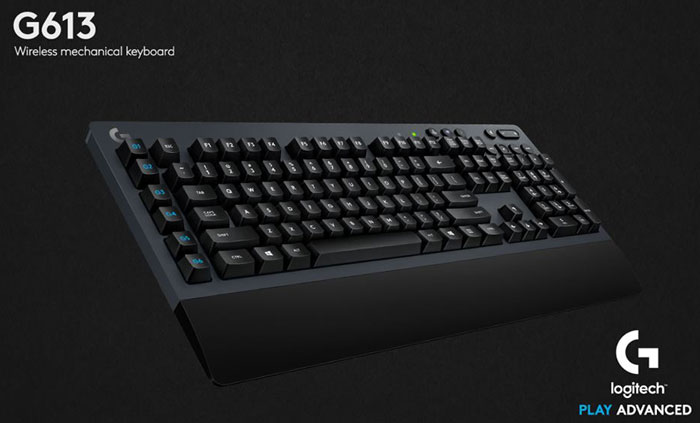 Logitech employs its own Romer-G mechanical switches for quiet, precise mechanical performance and a 70 million click durability figure. If you've seen a Logitech keyboard advertised or reviewed before you will likely be aware that Romer-G switches provide a short 1.5mm actuation, providing a 25 per cent speed boost over rival designs, according to Logitech.
There are 6-programmable G-keys to the left border of the keyboard for gaming and other macro functions. Logitech Gaming Software (LGS) can be used to easily setup and manage application profiles, keystroke commands and more.
The Logitech G613 is available to pre-order now at £129.99 including tax and postage.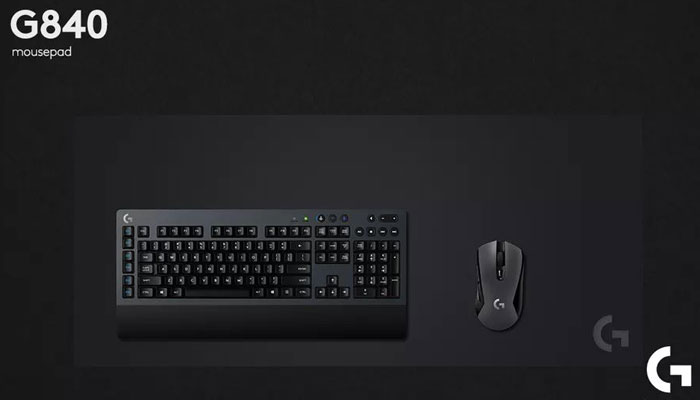 Lastly, and obviously not part of the LIGHTSPEED range, Logitech has launched the G840 XL Gaming Mouse Pad. Its 'desk sized', so covers a generous keyboarding and mousing area - if not your whole desk.
The precise size of the G840 XL is 900x400mm. It is said to provide optimal sensor imagery for gaming mice, with a pleasing texture and 'feel'. The mouse mat is 3mm thick and supplied with a durable tube for easy transportation. If you are interested this full desk mouse pad is available to pre-order for £42.99 including tax and postage.