What to do with all those digital photos?
Digital photo frames have developed something of a bad rep in recent years. Perhaps its due to the market being flooded with poor quality models, or maybe it has something to do with Chinese photo frames being loaded with the rather-nasty Mocmex computer virus a few years back.
Whatever the reason, digital frames have gone from liked to loathed - to the extent that when 2,000 people were asked to name their most unwelcome Christmas gifts in a 2010 survey, digital photo frames topped the list.
The signs are ominous, but if you have your heart set on enjoying your snapshots in digital glory, rest assured - the Kodak photo frame we're taking a look at today is, surprisingly, really rather good.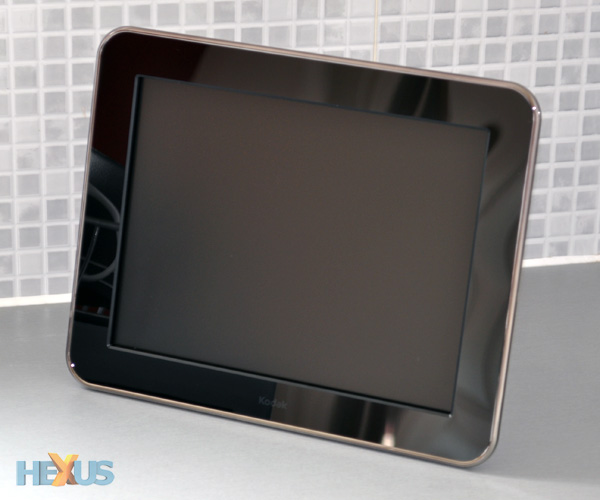 The simple-looking frame, dubbed the Pulse, is available in 7in and 10in (pictured) models priced at around £85 and £125, respectively. That's a hefty sum for what's primarily a small touchscreen TFT display, but Kodak's Pulse also packs integrated Wi-Fi technology (802.11bg) - and it's that ability to communicate over the airwaves that sets the frame apart.
Unlike most conventional frames - which require pictures to be loaded via USB or memory card - the Pulse allows users to upload pictures from any PC with a web connection, and, if you prefer, it can grab pictures automatically from online social networks such as Facebook and Kodak Gallery. Pictures can also be emailed to the frame directly, so you can have friends and family keeping your slideshow up to date without having to lift a finger. Not bad, eh?
Kodak has endeavoured to make the Pulse as easy to use as possible, and it's designed to be a great gift for technophobes. For example, if you're thinking about buying one for your parents, you'll find the frame's activation code and serial number on the outside of the box - allowing you to add pictures and configure the frame online, without having to damage the packaging. And, if the recipient's technical prowess doesn't extend beyond turning the mains socket on and off, fear not - the frame's touchscreen can be easily disabled, letting you administer the device remotely via the Kodak Pulse website.
In theory, you could buy the Kodak Pulse as a gift and have the recipient do nothing more than plug it in and connect to a wireless network. It doesn't get much simpler than that, but is it really as user friendly as it claims to be?
Setup and usage
Only two physical buttons are available to the Pulse photo frame - power on/off and health check - and both are tucked away neatly on the rear of the device alongside a pair of card-reader slots and a USB port. For those who prefer to load photos the old-fashioned way, SD, SDHC, MMC, MS and xD memory cards are all supported, but we get the feeling most users will opt to load photos via Wi-Fi.
Kodak must hold a similar belief, as connecting to a wireless network is the frame's first port of call. The on-screen setup process involves a few short steps, and Kodak's interface is clear and well presented - with big, unmissable buttons that respond well to the touch.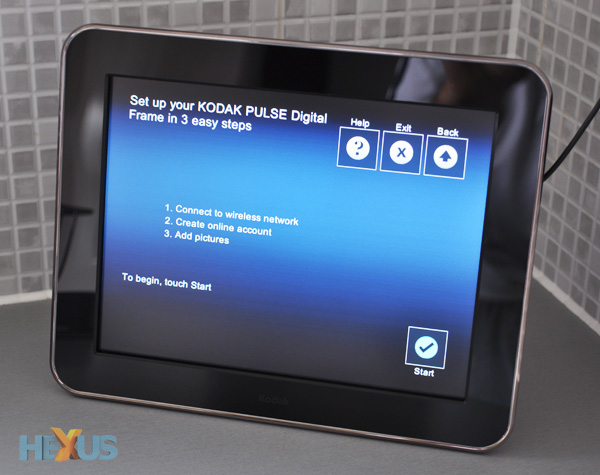 Connecting to our secure wireless network was a breeze, and the frame indicates a signal strength of 78 per cent when located in the room adjacent to our router. So far so good, but we then found ourselves unable to connect to Kodak's online portal, with the frame opting not to give any information beyond "could not connect to the Kodak Pulse server". Turning to Google for our troubleshooting needs revealed that a firmware update is required in order to complete the setup, and the latest firmware can be easily loaded with a press of the rear-mounted health check button.
A mild inconvenience, but one that the target audience shouldn't have to contend with. The word firmware isn't likely to compute with many users, and we'd prefer to see updates pushed seamlessly and automatically when a Wi-Fi connection is established.
Still, get past that hurdle and it's clear sailing from here on in. With the frame hooked up to the world-wide web, the setup process is continued on Kodak's companion site, kodakpulse.com. From here, users are required to create an account and activate the frame using the code on the product box.
Once activated, a setup wizard lets you add pictures from your computer, create a custom email address through which photos can be added to the frame, and, if you wish to do so, connect to Facebook and/or Kodak gallery. Decide to take up the offer of Facebook connectivity and you'll be able to display photo albums of your own and those of your friends, as well as any new pictures from your news feed.
Sourcing images from online libraries helps prevent the photo frame feeling stale, and we're particularly fond of the email function - send images as attachments to your custom email address and they show up on the frame in a matter of minutes.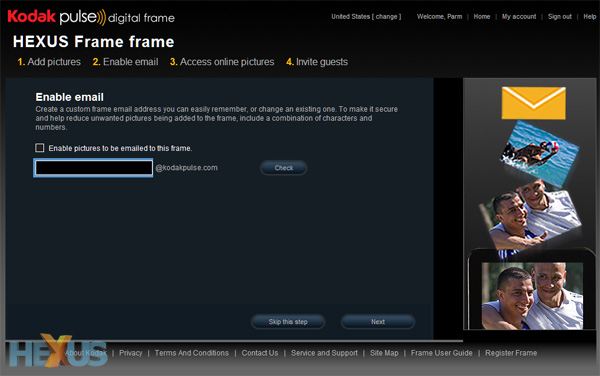 The web-based configuration is very accessible, and it's pleasant to use. Computer novices should have no trouble navigating the site, and there are a couple of behind-the-scenes mechanisms that help users get the most out of the frame.
For example, all uploaded images are automatically resized to help make the most of the frame's 512MB internal memory. We expected to take a deep bite out of the built-in storage capacity when we uploaded 13 JPEGs weighing a total of 50MB in size, but Kodak's on-the-fly downsizing ensured that the frame remained only 1 per cent full. Going by that measurement, Kodak's claim of being able to store up to 4,000 photos on the Pulse probably isn't far off the mark.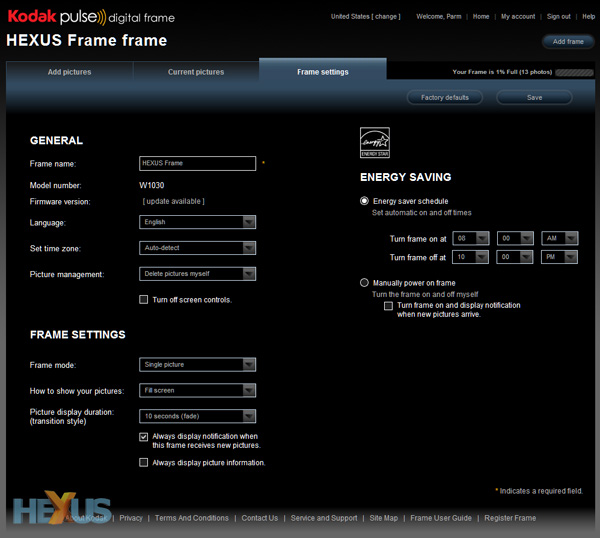 Digging deeper into the online configuration options reveals a settings page that provides finer control of the frame's core features. The touchscreen can be disabled, the image slideshow can be switched from single picture to collage, the image display duration can be changed and there's an option to enable a rather handy energy saver schedule that turns the frame on and off at user-defined intervals. It's a great function to have, but there's no option to set different times for weekdays and weekends, and somewhat unusually, this function isn't available via the frame itself - it can only be enabled or disabled via the online admin panel.
Picture quality, final thoughts and rating
The most obvious strength of the Kodak Pulse is its ability to acquire new images from various sources. Give your frame's email address to friends and family, connect a Facebook account, and you're practically guaranteed a steady stream of new content.
What's less of a headline feature but arguably more important is the frame's impressive 10.4in display. Offering an 800x600 resolution, the LED-backlit panel ticks all of the right boxes - it's suitably bright, colour reproduction is excellent, viewing angles are decent in all directions, and the matte finish helps minimise reflections.
The display's quality is such that Kodak perhaps should have put it to better use; though images are displayed vibrantly, the frame can't be used in portrait mode, and there's no option to playback music or video - both of which are features you'd expect at this price point.
Similarly, while many will enjoy the ability to connect the frame to a Facebook account, it's a shame that Kodak hasn't explored other popular web-based photography services such as Flickr and Picasa.
There are a few limitations here - none more so than the asking price - but get past that and you'll find the Kodak Pulse to be a high-quality frame that's easy to setup and fun to use.
The Good
Friends and family can add pictures via email
Bright, vibrant display
Facebook integration
Scheduled on/off
The Bad
Lacks support for popular web services such as Flickr
No option to play videos or music
Pricey for a digital photo frame
HEXUS Rating

KODAK PULSE Digital Frame
HEXUS Awards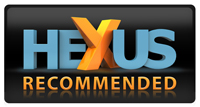 KODAK PULSE Digital Frame
HEXUS Where2Buy
The 10in KODAK PULSE Digital Frame is available to purchase from Kodak.co.uk and Amazon.co.uk.
HEXUS Right2Reply
At HEXUS, we invite the companies whose products we test to comment on our articles. If any company representatives for the products reviewed choose to respond, we'll publish their commentary here verbatim.