Plantronics recently celebrated its 50th anniversary in the headset business by launching the Voyager PRO UC v2 - a Bluetooth headset that it claims is smarter and more intelligent than anything that has come before.
Lofty claims, and you might be wondering where exactly Plantronics can go with the award-winning Voyager line. Last year's PRO+ model - which we found to be the best Bluetooth headset we'd ever used - offered A2DP audio streaming, in-ear voice prompts, in excess of five hours talk time and outstanding call quality.
We didn't expect to see the Voyager PRO+ bested quite so soon, but Plantronics isn't resting on its laurels and the Voyager PRO UC is absolutely an improvement on an already-winning formula.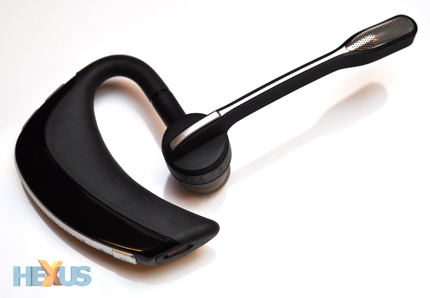 Priced at a jaw-dropping £119, it represents the very best of the Voyager line and introduces a killer new feature dubbed Smart Sensor technology.
Smarter than ever
Built into the bulk of the headset, the Smart Sensor technology consists of two capacitive sensors - one housed in the earpiece itself, the other in the over-ear loop - that detect whether or not a user is wearing the headset. It sounds simple enough, but it's hugely effective and increases the functionality of the device in various ways.
To begin with, the technology knows where to route your call. If you're not wearing your headset (or worse still, you can't find it), you needn't worry about severing the Bluetooth connection - your calls are automatically routed to your phone. And, should you wish to switch to the handset at any point, simply put it on and the audio is routed to the earpiece without having to press any buttons.
It's that simplicity that makes the technology a treat, and it works incredibly well. Calls can be automatically answered by putting the headset on, and if you're listening to music it'll pause the stream when you take the headset off and resume when you put it back on. The Smart Sensor has proven to be perfectly accurate during our testing and Plantronics is making full use of the new-found functionality. Looking beyond basic usage, the Voyager PRO UC auto locks when not worn to prevent accidental calls, and if used in unison with desktop software such as Skype, it'll even change your status presence to "on a call" when you're in the midst of a mobile conversation.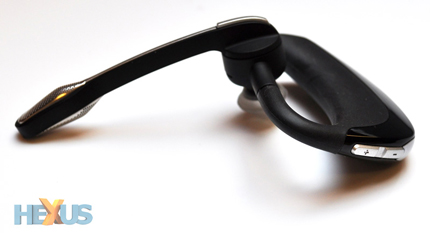 Design and features
Aesthetically, not a lot has changed. The Voyager PRO UC looks physically identical to the Voyager PRO+, and that's both good and bad. If you're fond of the trademark Plantronics design, the new UC model - which, by the way, stands for Unified Communications - is unlikely to disappoint. It's lightweight at just 17.5 grams, feels very comfortable around the left or right ear and it looks very familiar.
On the other hand, the design is starting to appear just a little long in the tooth. Readers yearning for a refresh won't find it here, and compared to other headsets on the market, the Voyager PRO UC is a little bulky and basic in appearance.
It's a case of function over form, and it's hard to argue against that. Like the PRO+ before it, the PRO UC features just three buttons; power on/off at the back, volume up/down at the top of the loop and call answer/end at the base of the boom microphone. Each button is responsive and well-positioned, and Plantronics' voice alerts whisper quietly in your ear to keep you apprised of talk time, connection status, battery level and more.
Building on the strengths of its predecessor, the Voyager PRO UC supports the Advanced Audio Distribution Profile (A2DP) for streaming various types of audio direct to the headset. Listening to your favourite music through one ear isn't a whole lot of fun, but A2DP is useful for light listening (Podcasts, for example) or for streaming GPS directions right into your ear.
Courtesy of Bluetooth Multipoint technology, it's also possible to connect the Voyager PRO UC to two devices simultaneously - a feature that's well utilised by the bundled USB dongle. Measuring just a few centimetres long, the tiny dongle comes pre-paired with the headset and can be plugged into a PC or Mac for use with VoIP applications from the likes of Avaya, Cisco, IBM and Skype. A unique model optimised for Microsoft Lync and Office Communicator is also available, and in addition to the Bluetooth adapter, the Voyager PRO UC bundle provides an AC charger with EU and UK adapters, a USB charger cable, different-sized, interchangeable ear tips and a smart-looking leather carry case.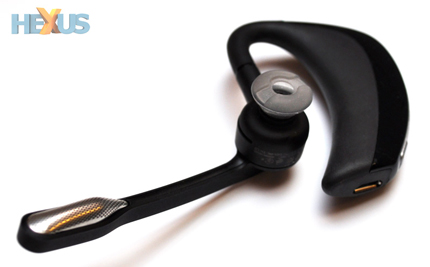 Call quality and comfort
As far as call quality is concerned, very little has changed. But that's hardly a criticism. Sticking to the award-winning ingredients that made up the Voyager PRO+, the new UC incorporates dual noise-cancelling microphones with AudioIQ2 digital signal processing and WindSmart technology. The Bluetooth connection transmits at a range of up to 30 feet, and the call quality - in both directions - is top-notch. Voices fed through the rubber earpiece came across clear and natural, and we knew we were on to a winner when numerous callers admitted to not being able to tell if we were using the headset or not.
Call quality is impressive and the Voyager Pro UC does an excellent job of cancelling out background noise, so Plantronics clearly hasn't overlooked the basics. Quite the contrary, in fact. There's a lot of tech on show in this headset, but its ease of use has to be near the top of the feature list.
Thanks to the Smart Sensor, it's possible to use the headset without pressing any buttons. You'll need to pair the headset to your device first - a process that literally takes 20 seconds - but from then on the headset takes care of itself. Pop it on and it'll answer your call, take it off and it'll end the call and auto-lock.
It doesn't get much easier than that, but more advanced users are catered for as well; two taps of the call button redial the last number, a quick press of volume up and volume down mutes the headset, and a two-second press of the call button will activate your phone's voice-dialling mechanism.
Slipping easily over the left or right ear, the Voyager PRO UC is comfortable to wear and, depending on your tolerance to things sticking in your ear, can quite easily be kept on for hours on end. That brings us onto battery life. The unit ships with a rechargeable, non-replaceable Lithium-ion polymer battery that fills up in one-and-a-half hours and then delivers up to six hours of talk time or five days of standby.
Summary
We've gushed over the Voyager PRO UC's mix of technology and simplicity, but let's not forget the facts; Plantronics' latest headset might be its smartest yet, but in many ways it's the same as a Voyager PRO+ that costs over 50 per cent less.
The £119 asking price is a huge obstacle for most users (if not insurmountable), and what you're paying for is added convenience. The Smart Sensor is an excellent addition, and it works a treat, but it doesn't allow the Voyager PRO UC to do much more than what its predecessors can achieve with the press of a few buttons.
That said, if convenience, ease of use, excellent call quality and the ability to manage PC and mobile phone calls from a single headset are high on your priority list, the Plantronics Voyager PRO UC is an outstanding choice. Ludicrously expensive? Yes, but it's the best Bluetooth headset we've ever used.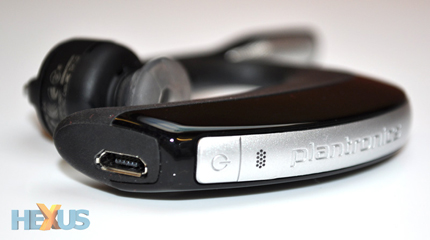 The Good
Smart Sensor technology makes implicit sense
Feature packed, yet easy to use
Excellent call quality
Comfortable
The Bad
Physical appearance is long overdue a refresh
£120 is a lot of money for a headset
HEXUS Rating

Plantronics Voyager PRO UC v2
HEXUS Awards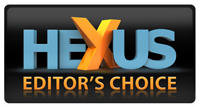 Plantronics Voyager PRO UC
v2
HEXUS Where2Buy
The Plantronics Voyager PRO UC Bluetooth headset is available from Amazon.co.uk.
HEXUS Right2Reply
At HEXUS, we invite the companies whose products we test to comment on our articles. If any company representatives for the products reviewed choose to respond, we'll publish their commentary here verbatim.