Predominantly known as a manufacturer of PC memory, Corsair's out-of-the-box thinking has seen it move some of its products away from the confines of the PC chassis. The company now has an established line of premium headsets and 2.1speakers. Having already taken a look at the room-filling sound of the £200 SP2500 set back in December, we turn our attention to £80 ($99) SP2200.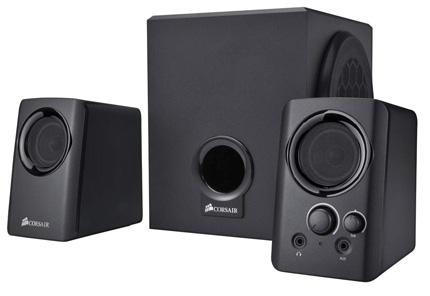 The package
Corsair retains the 2.1-channel setup - left, right, and subwoofer - of the SP2500 PC speakers, but goes for the mainstream market by reducing size, power and cost. The minimalist styling is kept over from the more-expensive set, and we like the clean lines of the all-black package that's only punctured by a blue LED when power is fed into the speakers.
Build quality is solid, with no squeaks or rattles, and Corsair provides enough cabling to house the two satellite speakers far enough apart to provide a decent stereo image. Being what are termed near-field monitors, the speakers are best situated within six feet of the listener, thereby hitting an engineered sweetspot. Each satellite features a two-inch driver that delivers 8W RMS, evaluated to FTC specifications.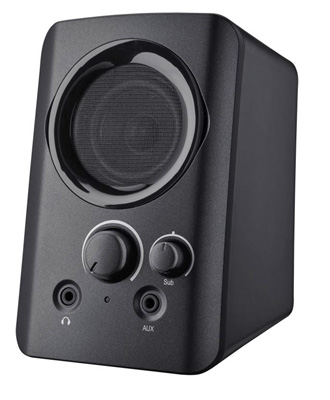 There's no remote-control present in the SP2200 package. Rather, the right-hand satellite speaker has wheels that set the volume and subwoofer bias, which means it's directly connected to the 'woofer through a thick-ish cable. Another pre-plumbed cable then runs to your PC's audio outputs.
A couple of 3.5mm jacks provide headphone connectivity and an input for passing audio through a digital MP3 player. Setup is a doddle, and if you're not up and running within five minutes then it's time to go to Specsavers.
Swapping out the monumental subwoofer-cum-footrest found on the larger set, the SP2200's comfortably fits under a desk. Measuring 23cm x 23cm x 18cm, the sub's six-inch driver provides most of the set's oomph. Rated to 30W RMS and featuring a side-ported design, the subwoofer/amplifier is located inside a wooden cabinet, unlike the plastic used on the satellites.
Together with the input for the left-hand satellite and fat wire coming from the right-hand satellite, Corsair also provides a couple of RCA inputs - left and right - for connecting up a third source. Inside, there are two Class-D amplifiers that provide the juice for the trio of speakers.
Now, you may be thinking that a combined 46W RMS is underwhelming for a set of 2.1 speakers. Corsair opts for a conservative rating when compared to competitors' offerings. The SP2200, however, are designed to run at maximum power without distortion. Further, comparing manufacturer-to-manufacturer RMS ratings verges on pointless when each company can use different methods of qualification.
The sound
Connected up to a high-end ASUS Xonar DAV soundcard and set to medium levels, the SP2200 exhibits the upfront, bright sound we heard on the range-topping SP2500s. Sat five feet away from the satellites in a rectangular (230sq. ft) office, turning the volume control to one-third of maximum provides enough noise for a decent listening experience.
Dial it up to half and the SP2200's belie their 46W RMS rating and sound punchy and vibrant. Go much higher and the set keeps control of the mid-range and bass as the noise escalates. You're not going to get the same wig-removing wall of sound presented by the SP2500s, absolutely, but the cheaper set is more than capable of filling most bedrooms and medium-sized offices. We found that running the subwoofer with a slightly negative bias provided the best-quality sound, with a near-seamless mix of high, mid and lows.
Listening for longer periods over various genres of music indicates that the SP2200 set is almost a scaled-down version of the trouser-flapping sound available on the £200 SP2500s. Subjectively speaking, the smaller set loses just a touch of clarity (separation) and the bass isn't as overtly impressive, but we must remember that these are less than half the price.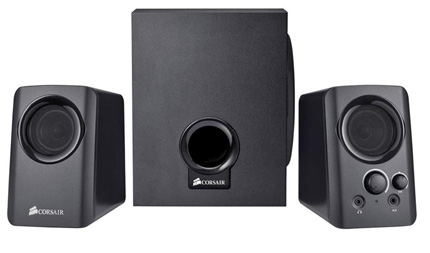 Changing gears and moving over to gaming, which is how Corsair actually markets them, and the crispness and clarity remain good. The throbbing engine notes from F1 2010 are conveyed well and the melee of sounds from StarCraft II can be picked apart.
A number of manufacturers opt for a 5.1 set of speakers at this £80 price point, trying to give you more bang for your buck, but Corsair remains committed, for the time being, in providing three speakers, with an ostensible bias towards quality over quantity.
Spoilt as we were with the relative excellence of the precise sound of the SP2500, Corsair's entry-level SP2200 2.1 speakers have many of their bigger brother's attributes at a lower price. £80 is still a lot to pay for just three speakers, granted, but if you want high-quality audio and have a decent soundcard or digital audio player as an input, the Corsair SP2200 absolutely deserve to be on a shortlist.
The good
Very listenable sound
Audio level belies 46W RMS rating
The bad
No built-in EQ modes

HEXUS Rating

Corsair SP2200 speakers
HEXUS Awards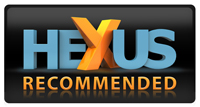 Corsair SP2200 speakers
HEXUS Where2Buy
The Corsair SP2200 speakers can be purchased from SCAN.co.uk.
HEXUS Right2Reply
At HEXUS, we invite the companies whose products we test to comment on our articles. If any company representatives for the products reviewed choose to respond, we'll publish their commentary here verbatim.