Apple has just finished its special iPhone 7 launch event in San Francisco. The highlights of the show were obviously the new smartphones, the iPhone 7 and iPhone 7 Plus, and the tech specs of these new devices.
Design
In design the new iPhones look very similar to the preceding iPhone 6(S) models. Nevertheless, there are a number of visual clues to allow smartphone spotters to recognise the new devices in the wild; the plastic radio transparent bands have been moved to subtly curve around the top and bottom of the phone, there's new colours – Black and (glossy) Jet Black, they are missing 3.5mm headphone sockets, they include of stereo speakers, and the iPhone 7 Plus has a dual camera system on the back.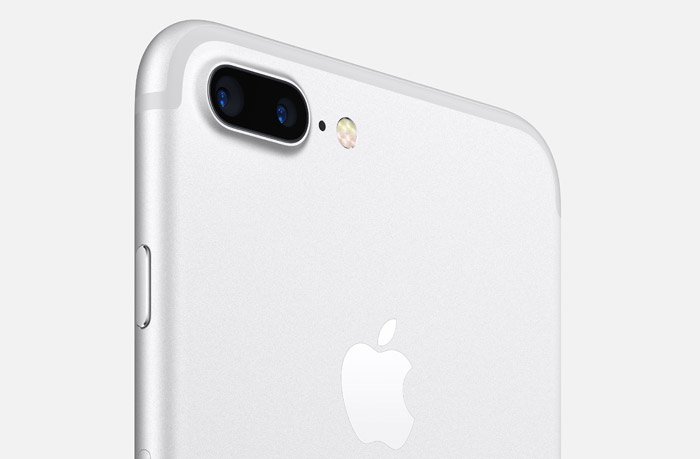 Design changes that can't be seen by visual inspection include the splash and water resistance, and the new home button with Force sensitivity.
Processing power
Inside the new iPhone 7 and 7 Plus beats Apple's A10 Fusion 64-bit quad-core processor. This processor's CPU employs a pair of high performance cores and a pair of high efficiency cores. It is said to be 40 per cent faster than the A9 chip in the iPhone 6S and 6S Plus, or 140x faster than the original iPhone.
Also part of the A10 Fusion is a 6-core graphics processor, said to be 66 per cent faster than the GPU in the 6S and 6S Plus, or 240x faster than the GPU in the original iPhone. There's an embedded M10 motion coprocessor in the SoC too.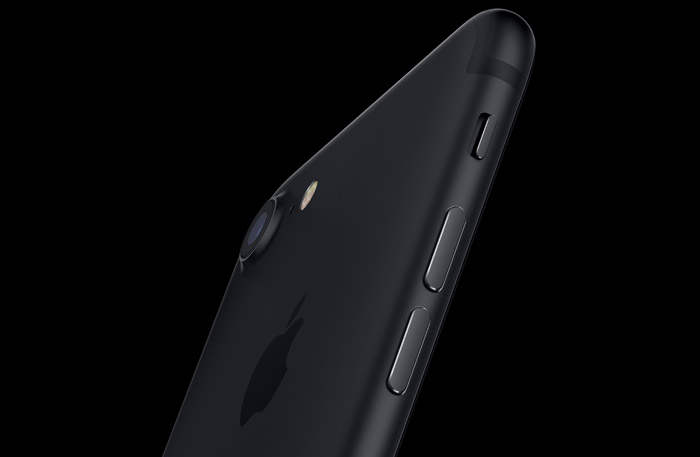 Cameras
Here we start to see some divergence between the iPhone 7 and 7 Plus. Both smartphones use 12MP cameras with f1.8 apertures, backside illumination sensors, and OIS but on the Plus model that camera is joined by a telephoto (2x zoom) f/2.8 camera. The cameras on both models are accompanied by Quad-LED True Tone flash units and feature auto HDR, a hybrid IR filter, body and face detection and more. As well as for telephoto 2X optical zoom usage, the dual lens system in the Apple iPhone 7 Plus can be utilised for depth of field effects. Both iPhone 7 models can record up to 4K video at 30fps.
On the front of the iPhone 7 smartphones is a 7MP f/2.2 FaceTime HD camera with Retina flash, BIS, Auto HDR, body and face detection, and 1080p video recording.
Audio
Above we have mentioned the stereo speakers. Apple says that the new iPhone is twice as loud as the previous models and allows you to listen in native stereo sound. Another audio change is with the headphone jack – or lack of one, to be more precise. Instead Apple thinks people should go wireless. Apple's Phil Schiller said that it doesn't make sense to be tethered by wires to your wireless devices.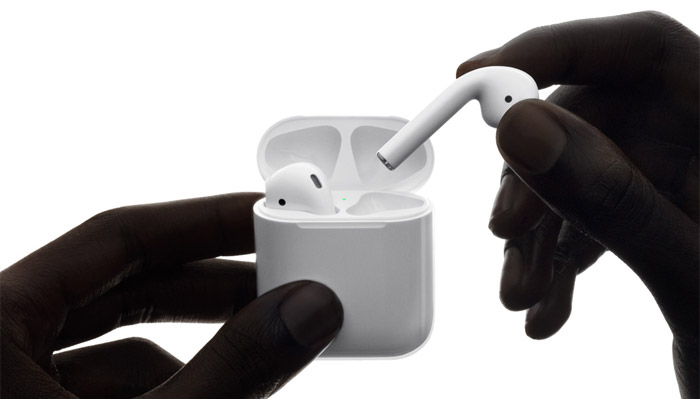 The Apple iPhone 7 will come with wired EarPods that have a Lightning connector, as well as a 3.5mm headphone jack adapter so you can use your old headphones - but Apple would rather you invest in some AirPods. Due to be released in October (at $159), AirPods are wireless headphones that use Apple's new W1 audio chip. They offer 5 hours use per charge, and come with a compact wireless charging case that itself can provide 24 hours of charge. Beats is coming out with a range of headphones equipped with the W1 chip.
Other features
Apple says the new screens are its brightest and most colourful yet. They are IPS screens, not OLED, dubbed Retina HD displays. On the iPhone 7 it is 4.7-inches and offers a 1334-by-750-pixel resolution at 326ppi. The Apple iPhone 7 Plus has a 5.5-inch screen with 1920-by-1080-pixel resolution at 401ppi.
The new iPhones feature improved battery life – the longest battery life ever from an iPhone, says Apple. A new iPhone 7 can provide on average about 2 more hours a day compared to the iPhone 6S, while the iPhone 7 Plus offers on average about an hour more usage time than the 6S Plus.
Another important improvement is the faster LTE capability of the new iPhones with improved worldwide roaming. Now LTE speeds can reach as high as 450Mbps and the iPhone 7 models support 25 LTE bands.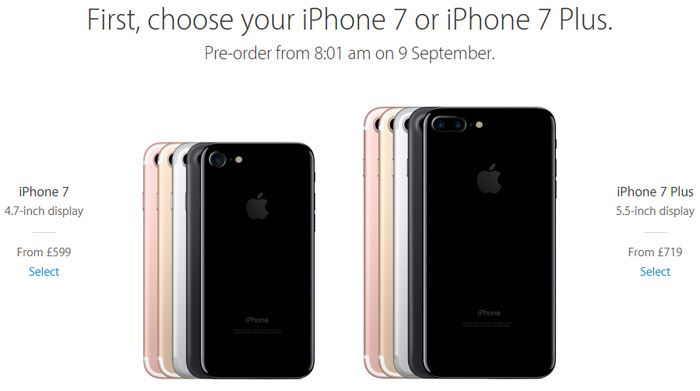 Available soon
Apple announced that the new iPhones will cost the same as 6S models at launch. However, all storage configs are doubled compared to the older phones, so buyers now choose from 32GB, 128GB, or 256GB. The new Jet Black colour is only available in 128GB and 256GB capacities. The iPhone 7 and iPhone 7 Plus are available to pre-order from Friday 9th September and available in many countries, including the UK, from 16th Sept. Last but not least the new iPhones will debut with iOS 10 installed.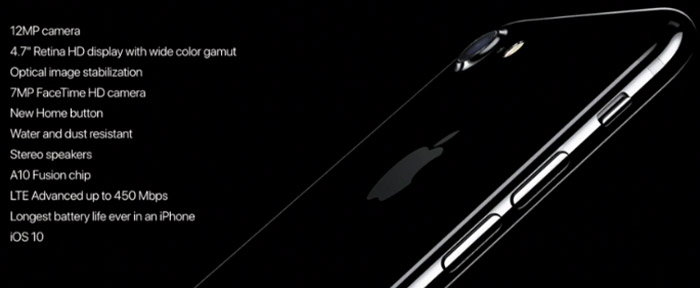 iPhone 7 specs, above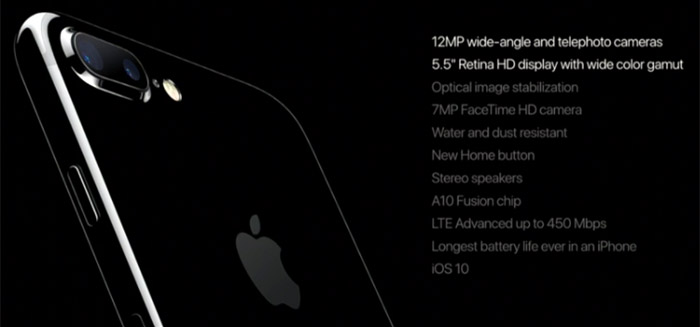 iPhone 7 Plus specs