In our previous story about Lenovo Tech World 16 we saw mainly prototypes of Lenovo products that may, or may not, hit the market. Here I am looking at the new product announcements of which there are two main lines, one under each of the Lenovo and Moto brands. All the products announced below are "coming this summer".
Lenovo Phab 2, Phab 2 Plus and Phab 2 Pro with Tango
Lenovo announced a trio of Phab 2 smartphones. The most interesting one, and the one we will look at in detail here, is the Phab 2 Pro with Tango. Of course its name makes reference to Google's Project Tango and it is the first smartphone or device to come thus equipped.
Project Tango leverages special cameras, electronics and software to enable augmented reality. This AR overlay can be seen through the Phab 2 Pro screen as you walk around or look around an environment. The feature can be used in various utilities and in entertainment. Lenovo had four applications to show Tango in action; an app from US DIY store Lowe's that helps you measure up and check out items in your home before making a purchase, and a trio of games. Currently there are 21 Tango apps in the Google Play Store too. Furthermore, if you can imagine an app where depth-sensing and motion-tracking cameras would be useful – it would probably work well on this phone.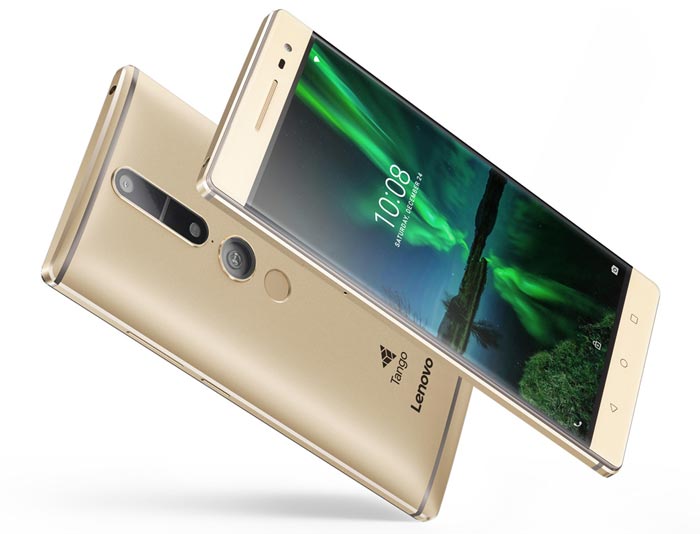 As a smartphone the Lenovo Phab 2 Pro offers decent standard specs. It has a large 6.4-inch QHD (1440 x 2560) screen, Qualcomm Snapdragon 652 processor (Tango Edition), 4GB RAM, 64GB storage, Tango camera system, 16MP rear camera, 8MP front camera, Dolby Atmos / 5.1 Audio Capture plus 3 mics with 360 voice, fingerprint scanner, a 4050mAh battery featuring 2.4 x turbo charging. It is designed within an 8.9mm aluminium unibody fronted by 2.5D curved glass.
Moto Z with modular enhancements
Several days head of this Lenovo Tech World 16 presentation we were teased with nostalgic videos of the Motorola RAZR clamshell phone. This led to a lot of speculation about an upcoming new Moto smartphone using a similar foldable form. However this was not to be, as the Lenovo boss unveiled the Moto Z and Moto Z Force smartphones after telling us the "snapping is the new flipping". The headlining aspect of these phones is thus their modularity – there are a number of different backs which can be sapped on to expand or enhance functionality.
So called 'Moto Mods' attach to these very slim smartphones using "really strong magnets". They can be easily changed and currently there are three such mods listed on the dedicated website.
So far Moto has detailed a projector mod for streaming shows and sharing photos on screens and surfaces up to 70-inches. There's a JBL speaker mod which will provide "the loudest, bumpin'est, OMG-I'm-carrying-a-concert-in-my-pocket experience ever," and integrates a kickstand. Also useful could be the Incipio offGRID power back, which rounds off your super slim phone and provides up to a further 20 hours of battery life.
The other more regular phone specs of the Moto Z include a 5.5-inch QHD AMOLED screen, a Qualcomm Snapdragon 820 processor, 4GB of RAM, 32/64GB of storage (+microSD), 13MP f/1.8 laser autofocus dual-LED camera, fingerprint scanner, and Android Marshmallow. A mod of some sort makes it more comfortable in the hand as it's a very slight 5.2mm thick device otherwise.