We previously reported on Amazon's ecstatic launch of its first smartphone, the Fire Phone, back in June. This device was said to bring along a collection of innovative features that customers would find irresistible. However it didn't take long until industry watchers noted that the Fire Phone appeared to be a damp squib. So here comes the predictable 'fire sale' - it has started already in the US.
The Amazon Fire Phone does have some interesting features but they weren't judged by the market to make the device worth US$449. Its 3D technology, Dynamic perspective and well specified camera unit were combined with Amazon exclusive Firefly and Mayday services to create what Amazon thought would be a killer product. However it didn't follow in the footsteps of Amazon's other device bestsellers in being priced keenly - compared to the competition - but with Amazon integration to try and make some more money from customers after the initial sell.
Today US residents can buy an Amazon Fire Phone for $199. That's a model with 32GB of storage and unlocked for use on any mobile network. Buyers will also receive a full year of Amazon Prime bundled into this deal. In the US Prime usually sells for $99 for a year and over the pond subscribers get free two day shipping of Amazon stuff, unlimited streaming of thousands of TV shows and movies thanks to Prime Instant Video, Prime Music streaming service and Kindle owners lending library.
UK residents ready to fire up their browsers to head over to Amazon.co.uk and see if we have a comparable Fire Phone deal will be disappointed today. At the time of writing the smartphone, locked to carrier O2, is still being offered at £399. However we are told that "for a limited time," (until New Year) we can get a free year of Amazon Prime with the handset.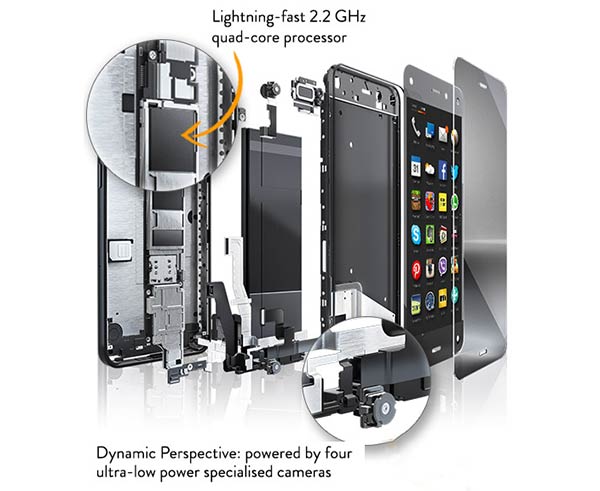 As a recap on the hardware in this smartphone; you get a device with a 4.7-inch 720p display, a 2.2GHz Qualcomm Snapdragon 800 processor, 2GB RAM, 32GB built-in storage, a 13MP main camera, a 2.1 MP selfie shooter on the front, Wi-Fi 802.11 a/b/g/n/ac, LTE and a 2,400mAh battery.