At HTC's Double Exposure event yesterday, the company announced two selfie-centred devices, the HTC Desire Eye and the RE handheld camera.
Desire Eye
The HTC Desire Eye's biggest selling point it its whopping 13MP front-facing camera, touted as being the most powerful front-facing camera ever put on a smartphone, reports The Verge. It features autofocus, a dual LED flash on both sides of the phone, and supports 1080p video recording.
HTC simultaneously unveiled its new 'Eye experience' camera software suite to take advantage of the Eye's front shooter. The new software includes a mode that takes pictures with both cameras at the same time, an ultra-gimmicky mode which allows you to insert yourself into a scene, as well as voice commands and face-tracking tech for video chatting. The new camera features will not only come with the new hardware announced at last night's event, some existing HTC devices will also be able to use the new software.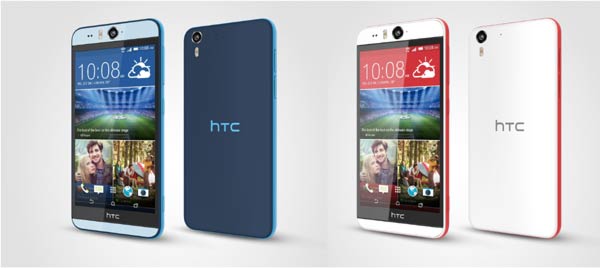 Besides its camera functions, the handset looks to have pretty decent specs for a mid-range smartphone, featuring a 5.2-inch 1080p display, the same Qualcomm Snapdragon 801 processor and 2GB of RAM as the company's flagship One (M8), and it is also IPX7 water resistant to up to 30 minutes in 1m of water.
The handset however, drops the premium metal chassis of HTC's flagship, and instead replaces it with a soft-touch plastic finish, which will be available in a white and red or two-tone blue colour option (see above). The price of the mid-range handset has yet to be announced, but is most likely to be lower than the M8 and other high-end Android phones in the current market. The Desire Eye smartphone is expected to become available later this year.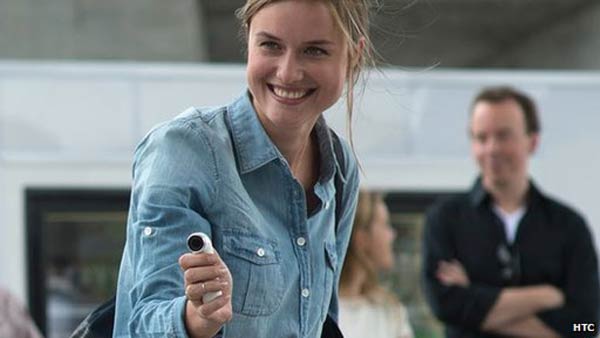 RE Camera
The second device announced by HTC was named the RE, a cylindrical shaped, waterproof, wide-angled digital camera which is capable of taking still photos as well as videos.
The camera will come with two button controls and a sensor which turns it on automatically when it is picked up, where an app will allow wirelessly connected smartphones and tablets to stream the footage live and play it back later, making the RE a likely GoPro contender.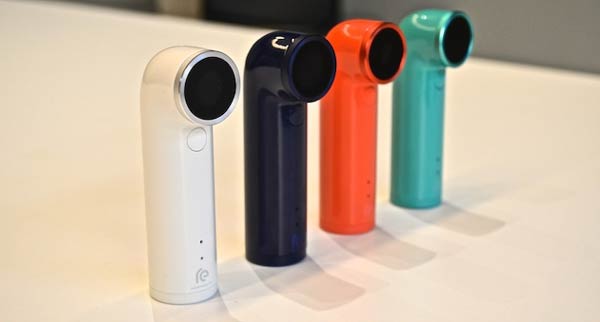 "Combining incredible hardware with unrivalled software, HTC is reinventing the way we think about imaging," said the Taiwanese firm's chief executive, Peter Chou. "We are taking you out from behind the viewfinder and putting you back where you belong, at the heart of the action."
The RE is a 16MP camera capable of shooting 1080p videos at normal speed and 720p in slow motion with a 146 degree field-of-view. It comes with a SD card slot but does not feature a screen of its own. It utilises your associated Android or iOS device as the viewing screen.
Again, this device has an IPX7 waterproof rating, whilst an add-on case can protect it to depths of 3m for up to two hours. HTC will also be releasing clip-on and suction mounts for attaching the RE to bikes, cars and other platforms.