This evening Amazon has unveiled the Fire smartphone. This is the company's first smartphone and it didn't want to enter the market with a me-too product, even a high end one. The key features Amazon wants to differentiate its smartphone with, in the crowded competitive market, are; Dynamic Perspective, the Firefly button and the seamless integration with its own online ecosystem.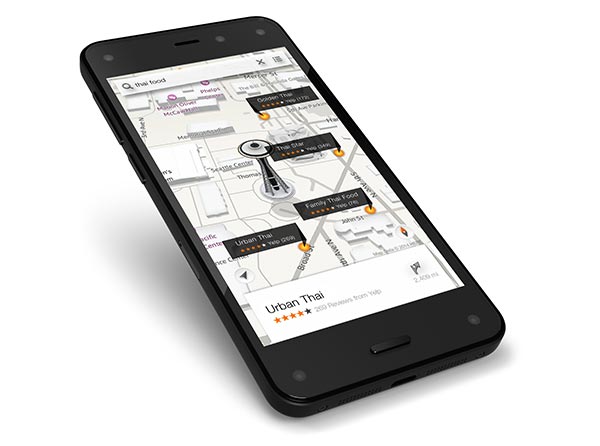 Let's start by looking at the Dynamic Perspective system which was heavily hinted at in the trailer video for this event seen last week. Also we have been seeing hints and leaks regarding some kind of 3D viewing capability in Amazon's upcoming smartphone for months. Amazon describes this Dynamic Perspective feature as "a custom-designed sensor system that responds to how you hold, view, and move your phone".
Users can tilt and swivel the Fire to see left and right panel UI elements slide in, see notifications and access settings. Also moving the phone lets you peek to see deeper into things and scroll long pages, for example. As well as the UI and 'utility apps' the technology is useful in games as the video below shows, from the perspective of several developers.
The Firefly button is another focus of Amazon's marketing message. This button, when pressed, makes the smartphone take instant action depending upon context. When Firefly identifies printed text/codes such as on posters, business cards and magazines it can act on the info to help you make a call, email and visit websites. Firefly also recognises "over 240,000 movies and TV episodes, and 160 live TV channels" so you can add programs to your watchlist or download list. It has similar capabilities with music you encounter on your travels and lets you listen to related music, put artists/songs on your wishlist and buy albums. Firefly also recognises many other household items via QR codes, barcodes, artwork etc including; books, video games and so on - so you can shop for them directly from Amazon.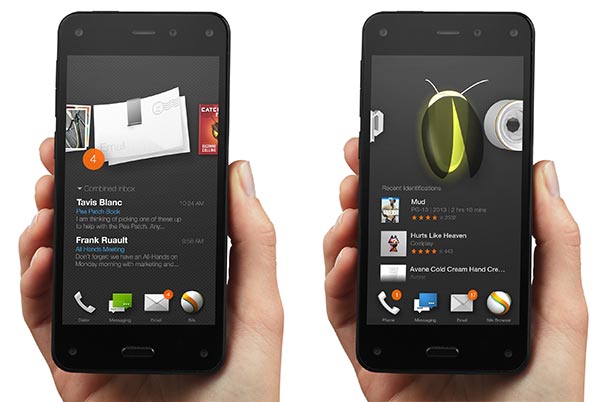 Amazon boasts of an advanced camera system in the Fire. In hardware spec terms you get a 13MP main camera with an f2.0 lens and OIS. Its capable of HDR imaging, panorama, lenticular, and burst capture and recording 1080p videos. Amazon lets you auto-backup your images to its cloud servers in full resolution without capacity limits.
The FireOS 3.5 which runs on the Fire smartphone also includes Amazon's Mayday "award winning customer service". This gives you live help via an onscreen video chat window to help co-pilot you through your difficulties. Hopefully connectivity isn't your problem as this obviously requires Wi-Fi or "the AT&T cellular network".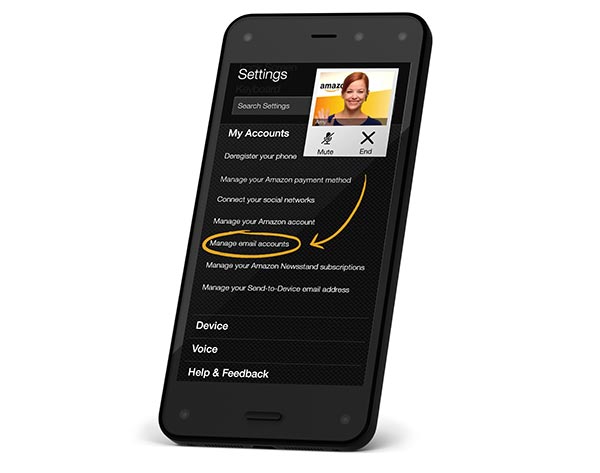 Amazon also has included "exceptional audio". The Fire includes; Dolby Digital Plus, auto adjusting volume, virtual surround sound and a premium tangle-free headset.
Amazon Fire key specifications
Screen: 4.7" HD LCD display, with 1280 x 720 resolution at 315 ppi, 590 cd/m2 brightness (typical), 1000:1 contrast ratio (typical)
Processor: 2.2GHz Quad-core Snapdragon 800 CPU, with Adreno 330 GPU and 2GB of RAM
Cameras: 13 MP rear-facing camera, multi-frame HDR, auto focus, optical image stabilization, f/2.0 5-element wide aperture lens, LED flash. 2.1 MP front-facing camera
Storage: 32GB or 64GB + free cloud storage of Amazon content and photos
Battery: 2400mAh
Connectivity: includes 9 bands of LTE (Bands 1, 2, 3, 4, 5, 7, 8, 17, 20), supports carrier aggregation, Wi-Fi, Bluetooth 3, NFC (uses nano-SIM)
Sensors: Dynamic Perspective sensor system with invisible infrared illumination, gyroscope, accelerometer, magnetometer, barometer, proximity sensor, ambient light sensor, GPS, Assisted GPS, GLONASS, Wi-Fi/Cellular location, and Digital compass
Ports: Micro USB 2.0 and headphone
Physical: 5.5" x 2.6" x 0.35" (139.2mm x 66.5mm x 8.9mm), 5.64 ounces (160 grams)
OS: FireOS 3.5.0
Jeff Bezos, Amazon.com Founder and CEO, summed up the new Fire as follows: "Fire Phone puts everything you love about Amazon in the palm of your hand—instant access to Amazon's vast content ecosystem and exclusive features like the Mayday button, ASAP, Second Screen, X-Ray, free unlimited photo storage, and more". He also emphasised the phone's big new feature "We invented a new sensor system called Dynamic Perspective that recognizes where a user's head is relative to the device—we use it to offer customers a more immersive experience, one-handed navigation, and gestures that actually work."
The Amazon Fire is available to pre-order now in the US, exclusively on AT&T. It will cost from $199 on a two year contract or for no upfront fee on a contract of $27.9 pm (AT&T Next 18). There is an introductory offer on right now where buyers get a free 12 months of Amazon Prime. We don't have any info on availability in other countries.